Reading Time:
3
minutes
Cassette tapes sales have seen big increases in recent years with a major increase of 125% in 2018 which continued in the first half of 2019. By the end of 2019, it's predicted that 75,000 tapes will be sold. Is it actually a long-term trend like the vinyl records or the revival of cassette tapes is just a temporary trend?
Frankly, a few years ago it seemed as if cassette tapes were just another part of the evolution of music media formats (records, cassettes, CD's, and MP3's). The cassettes tapes had some serious flaws as they lacked good sound quality, they use to break quite easily, and they lack basic features like skipping between tracks.
On the other hand, cassette tapes were pretty cool and innovative in the 80s, and though cassette tapes do not have equal sound quality to CDs or vinyl records, they are actually a pretty cool gadget with unique features. Cassette tapes were the first portable music media format and the ability to easily (and cheaply) record music, or any other content, have made cassettes the dominant music media format through the 80s and 90s. Even today, the walkman remain the symbol of coolness.
Here are some of the main reasons why cassette tapes are making a comeback
Material presence
Cassette tapes are astoundingly cheap to produce
Symbolism – Since the 80s and 90s, cassette tapes are the symbol of coolness
Cassette tapes are a portable format
Nostalgia
New portable cassette players have a better sound quality
Cassette to MP3 converter and Bluetooth Cassette Player make cassette tapes an updated music media format
5 Best Portable Cassette Players in 2019
| | | | | |
| --- | --- | --- | --- | --- |
| Place | Image | Product Information | Score | Stores |
| 1 | | IT'S OK – Bluetooth 5.0 Cassette Player by NINM | 8.5 | |
| 2 | | Guardyar Cassette Player Portable Tape Player Captures MP3 Audio Music via USB | 8.0 | |
| 3 | | Reshow Cassette Player – Portable Tape Player Captures MP3 Audio Music via USB | 7.8 | |
| 4 | | Sony Stereo CD/Cassette Boombox Home Audio Radio, Black (CFDS70BLK) | 7.8 | |
| 5 | | A Retro Boombox – QFX J-22UBK ReRun X Radio and Cassette to MP3 Converter – Black | 6.8 | |
The Top 40 bestselling cassettes of 2018 – Official Chart
Since the revival of cassette tapes, some bands and artists release their music on cassette tapes, which can be found on various platforms including Amazon.
Here's a list of the top bestselling cassettes in 2018, according to Official chart.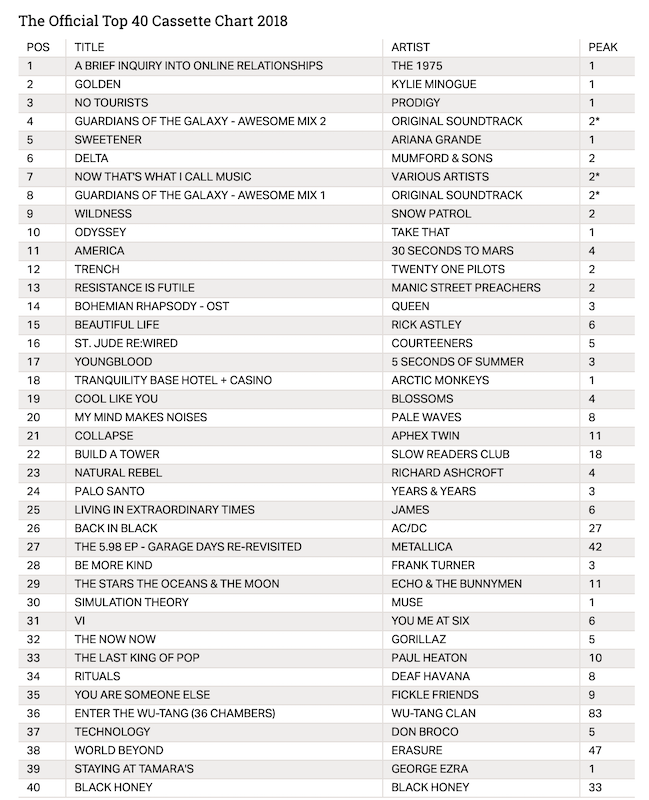 Latest posts by AllinAllSpace
(see all)