Reading Time:
9
minutes
Antarctica, the most unique continent on earth. The continent that no one owns and, surprisingly, is bigger than Europe and almost double the size of Australia. The desert (yes, dessert) which has no permanent residents and has a population of about 1,000 in winter to about 5,000 in the summer, is a place that should be on your to-do list. I mean, travel to Antarctica just sounds so special and…
But… traveling to Antarctica is not very easy, and not so cheap. So how can you travel to Antarctica, what are the routes, the cost, and the best time of the year to do that? All the answers are in this guide.
How can you travel to Antarctica in 2022?
Antarctica, the "White Continent",  is the southernmost continent and site of the south pole. It is a virtually uninhabited, ice-covered landmass. There is no place that is more appealing, mysterious, and overwhelming than Antarctica. It is no surprise that many people like to explore the "bottom" of the earth.
There are a few things to consider when you think of going to other places, and especially an exotic place like Antarctica – The route, the places to visit, the perfect season (it is because there are pick seasons), accommodation, and let's add the travel restrictions. These are just some of the things that we need to consider— such an important notice.
Among the first questions asked by the travelers who wish to travel to Antarctica is how to get there? Well, the answer is that there are two ways to get to Antarctica, those are by cruise or fly.
Route #1: By ship/cruise
Cruises to Antarctica depart from Argentina, Australia, and New Zealand. Ushuaia, Argentina is the most popular port used to get to Antarctica. To get there, you need to take a flight going to Buenos Aires, Argentina, and from there, you have to fly to Ushuaia, Argentina. The voyage from Ushuaia to the Antarctic Peninsula takes about two days by small ship.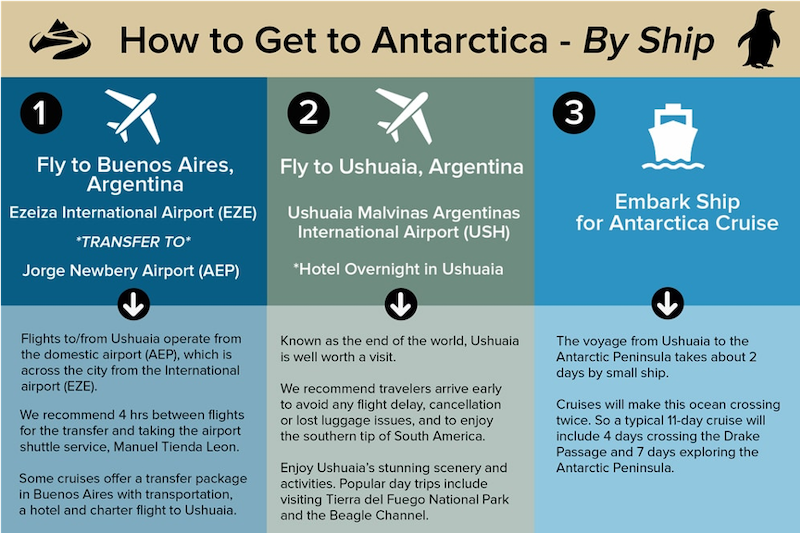 Cruises from Australia typically depart from Hobart, Tasmania. Then these voyages visit sub-Antarctic islands such as Macquarie Island, the Auckland Islands, or Campbell Islands which are rich in birdlife and wildlife. The crossing from Australia to Antarctica can take up to 7 days depending on the weather. Some Antarctica cruises depart from Australia, visit the White Continent, and then return to the same port while others begin in South America and end in Australia, or reverse. Antarctic cruises from Australia and New Zealand range from 25-35 days, which, obviously, take much longer than cruises from South America.
Route #2: By Plane
If you are a traveler who has a short time or is seasick, flying to Antarctica is a great way to get there because it avoids the potentially rough crossing across the Drake Passage. Flying over to the Drake Passage is the best way to get to Antarctica. Punta Arenas, Chile, is the most popular departure point for Antarctic air cruises. These trips utilize flights to cross the Drake passage, landing on King George Island near the Antarctic Peninsula. Travelers then embark on the ship in Antarctica.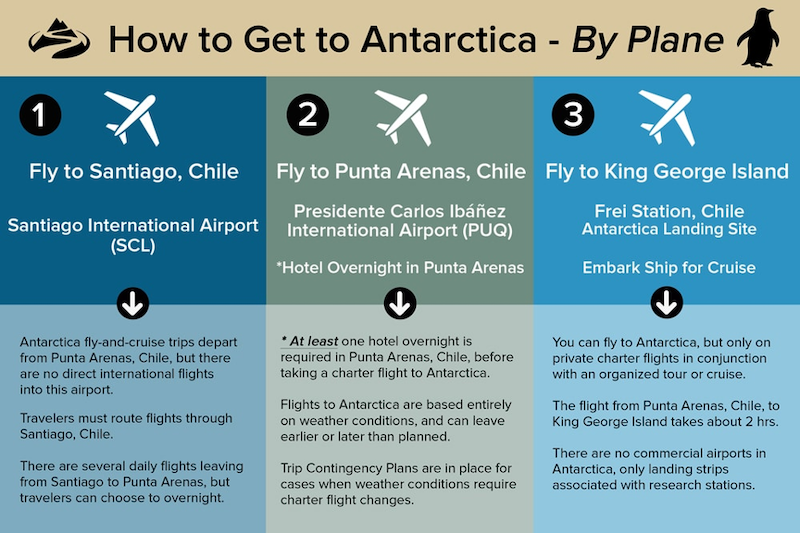 Keep in mind that there are no right or wrong ways to get to Antarctica. Your route will depend on your choice, time, and budget. But no matter what, by cruise or by plane, you certainly going to have a trip of a lifetime. Enjoy your trip no matter what route you take.
How much does an Antarctic trip cost?
Another important thing you need to consider when you plan on going to Antarctica is your budget and the cost of the trip. You need to set a budget for everything including your travel.
Antarctic trips can vary widely based on several things such as the number of days, the time of year, when you book, the cruise ship itself and cabin category is a primary factor that affects the cruise price.
The price also varies on where you are going. The Falkland Islands and South Georgia cruise itineraries and emperor penguin voyages in the Weddell Sea are among the highest since these voyages are longer. Aside from the cruise price, there are additional expenses travelers need to know and account for in order to calculate the entire Antarctica trip cost. These additional expenses include cost flights, pre-or post-cruise hotel overnights, and optional add ons in adventure activities and gears.
The average Antarctic trip cost is around $8,000 per person. The least expensive expeditions start at under $5,000 while luxury voyages exceed $15,000 per person. Therefore, if you want to spend less, take the least expensive voyage and the shorter number of days, otherwise, you will need to save a lot (of money) before you travel.
If you are planning for an Antarctic trip this year or the next, take a look at these Antarctica Cruise Deals for 2022-2023 for your preferences.
The time of the year: When is the best time to visit Antarctica?
Choosing the best time to visit Antarctica is a crucial part of the planning process. Of course, before we travel, we need to take into consideration each month's distinctive weather and temperature and so are the wildlife characteristics, in order for us to visit Antarctica during the best time of the year.
One of the factors why people ask when is the best time to visit Antarctica is the Drake Passage which is a notoriously bumpy stretch of water. But we can experience bad weather any time of the year so it is better to consider the area you want to visit in Antarctica, the wildlife you want to see, and how much money you would want to spend.
The months of October, November, March, and April are the low seasons. However, December to February are the peak seasons where many people sign up for the expedition. But just to give you a heads up, let us have a month-to-month guide.
October
Cruises that visit Antarctica as early as this time of the year are rare, and most of the people who visit are usually at the end of this month. The temperature is still very cold, the days are short which also means you enjoy lovely sunsets. Other advantages of visiting during this season are low fares, pristine snowy landscapes, and bigger icebergs, there will be few other ships, and it would be a great time for photography.
November
It is the time of the year when Antarctica opens its arms to the season's first visitors. It is also the time when you enjoy walking on virgin snow and appreciate its beauty. The days start to lengthen, penguin chicks start to hatch, and fares start to rise as well. It is arguably the best time to visit Antarctica for landscape photographers who will love the distinctive outlines of the giant icebergs cut against the sea and sky.
December
Though it falls during the peak season, this is also the best time to visit Antarctica. This is the time when the temperature is approaching its warmest, long hours of daylight, and wildlife is active everywhere. But, it is also the most expensive time to visit, particularly over Christmas and New Year.
January
Peak season in Antarctica continues in the month of January.It is the time with near 24-hour daylight giving you a great opportunity to take snapshots with your camera. Early in this month, expect to see adorable penguin chicks. Prices are slightly higher but it is definitely worth your time and money.
February
This month is said to be the best time for whale watching in Antarctica, including the species like humpback, sperm, minke, southern right, and orca, and you will also have the chance of seeing penguin chicks. By this season, you'll be unlikely to encounter issues with sea ice for it is the time for sailing all the way to the Polar Circle. Photographers will appreciate the great light combinations.
March
March marks the end of the peak season in Antarctica. During this time, you will be able to enjoy the captivating colors of green and pink algae against the water and ice, penguins are at their strongest, bravest, and most inquisitive of visitors. As autumn dawns, you'll have shorter days in which to explore but at the same time enjoy considerable savings compared to the peak seasons.
April to September
By April, cruise ships have left Antarctica. During the Antarctic winter, the temperature drops precipitously, darkness descends, and seas rage.
The best month to go to Antarctica will depend on what you hope to see and get from your trip, the expenses, or the company you want to be with. Whether you consider the temperature, the wildlife activity, or the light for photography, will affect your decision on when to have an Antarctic trip.
Now that we're done talking about the route, the cost, and when the best time to visit Antarctica is, we also need to consider the travel restrictions since we are in the middle of the ongoing Covid19 pandemic scare.
The travel restrictions: What are the requirements needed to have complied?
Antarctica is open for travel during this time of the pandemic. Fortunately, due to its remote location and small population, Antarctica was the last continent affected by the Covid19 pandemic. As of this writing, there are no active cases of Covid19 in Antarctica.
Antarctica itself does not have any COVID restrictions or entry requirements. However, since tours access the region from Argentina and Chile, travelers must abide by the restrictions of these countries.
If you are planning to visit Antarctica, here are the guidelines for travel restrictions you need to know and comply with.
Travel restrictions in Argentina
The country has announced that Argentina is open to fully vaccinated travelers. As of January 29, 2022, the following are the travel restrictions and entry requirements in Argentina:
All travelers to Argentina must complete the electronic "Health declaration form" no more than 48 hours prior to travel. There are some confusing questions for Antarctica cruise passengers, view a tutorial for help completing this form.
Proof of COVID-19 full vaccination. An original vaccination card is required, copies are not accepted. Learn what qualifies as fully vaccinated.

As an alternative, travelers can apply for a vaccination exemption from the Argentine Consulate. This option is not adequate for Antarctica travelers due to Antarctica cruise vaccination requirements.

Negative PCR test results from a test taken no more than 72 hours prior to your departing flight to Argentina (not arrival in Argentina) or a negative antigen taken no more than 48 hours prior to departure. Learn how to get a COVID test in the USA before you travel.

As an alternative, it is possible to take an antigen test upon arrival. This option is not adequate for Antarctica travelers because antigen tests will not satisfy Antarctic cruise testing requirements.

Travelers who tested positive or COVID-19 within the past 90 days may travel with confirmed lab results from their diagnosis and documentation from their medical care provided as long as the end of medical care was documented at least ten days after the positive lab test.
Travelers who board a cruise inside of Argentina must present a negative PCT test taken no more than 72 hours prior to boarding. The PCR test used to enter the country can be presented, as long as it is no more than 72 hours old.
All travelers to Argentina must have medical travel insurance with comprehensive coverage for coronavirus, including hospitalization and the costs of self-isolation if required.
Individuals entering the country must carry all documentation that accounts for travel requirements for 14 days after their arrival.
Travel restrictions in Chile
The country has announced that Chile is open to fully vaccinated travelers. As of November 1, 2021,  the travel restrictions and entry requirements in Chile:
Obtain a Mobility Pass issued by the Chilean Ministry of Health. The pass can be requested at mevacuno.gob.cl and requires proof of full vaccination. The process takes 2-4 weeks on average, and the Mobility Pass has a validity of 45 days. Delays are normally associated with incomplete applications or inconsistent information provided. The mobility pass application is a bit confusing, view a tutorial to help complete it. The mobility pass application is now available in 15 languages.
Proof of Covid-19 full vaccination. Proof of vaccination must be uploaded to the mobility pass application and presented upon arrival. Learn what qualifies as fully vaccinated.
Negative PCR test results from a test taken within 72 hours prior to your departing flight to Chile (not arrival in Chile). Learn how to get a COVID test in the USA before you travel.
Travel insurance to cover any medical expenses related to COVID-19 with a minimum coverage of $30,000 USD for health benefits.
Travelers must complete a "Travelers' Affidavit" form available at https://www.c19.cl/llegada-internacional.html. This form must be completed no more than 48 hours before boarding your flight to Chile. The Chilean travelers' affidavit includes an affidavit, contact and health information, travel history, etc. Travelers must upload negative PCR results (taken within 72 hours), medical travel insurance certificate, and proof of vaccination. Timing the completion of this form, with your negative PCR test will be tricky and may require you to complete the form while en route to Chile.
Travelers will need to provide copies of the Mobility Pass, the traveler's affidavit, the negative PCR test, proof of vaccination, and the insurance coverage to the airline prior to boarding the flight to Chile. They will also need to show those documents to the Chilean authorities upon arrival in Chile.
On Arrival in Chile, travelers must take another COVID-19 PCR test. The test costs $40 and must be paid by credit card. Travelers may continue to their final destination within Chile while awaiting results. Provided that the test result is negative, travelers will be welcome to proceed and enjoy a visit to Chile and Antarctica. Travelers who test positive are subject to quarantine at their own expense.
Beginning on November 30, 2021, Chile is not accepting travelers who, over the 14 days prior to entry, have been in South Africa, Zimbabwe, Namibia, Botswana, Lesotho, Eswatini, and Mozambique.
Land border crossings between Chile and Argentina are currently closed.
Conclusion
Traveling is certainly a good way to relax and recharge. In the case of Antarctica, exploring this place is something unique that only a few people have the opportunity to do so. Same as traveling to Alaska, travel to Antarctica gives you the opportunity some of the most special landscapes and wildlife. But you have to go through the planning process before you decide to go. These are just a few but the most important things to consider when traveling.
Now that we are still in the middle of the COVID19 pandemic, there are entry requirements we must add to our list that we need to consider and take into account. However, do not let things (minor problems along the way) hinder your trip. Enjoy every moment, every place, every activity. Make sure you get something from your trip. Make every trip a trip of a lifetime, especially in Antarctica.

Latest posts by Shecaynah Flores
(see all)