Reading Time:
4
minutes
Nowadays, the art of sampling music has become crucial in almost every music genre, as well as on other sources of music such as movies, video games, and online streaming videos. Therefore, it is impossible to ignore the use and development of samples in today's music. New music genres such as Lo-Fi, Mellow Beats, and many more have developed as a result of the increasing supply of samples and the ability to mix and master tracks from your own music production (DAW) software. Once you find a good site that provides high-quality samples, you get addicted, and suddenly, making music is a reality.
But, how do you find a site that offers you high-quality royal-free samples? How much does it cost? And how do you find the best sample packs?
How to find the best music samples and loop sites?
Well, if you actually plan to engage in music production seriously, then you might want to consider two-three samples and loops sites. After all, it's not an expensive service when you calculate the revenues that you might get if you release songs and get success. For instance, Spotify pays artists an average of $4 per 1000 streams. This means that if you create a good track, you will be able to cover the costs quickly. But anyway, you will most likely have to find the genre of music you want to produce, and based on that, find the best music samples site for you. If you want to produce beats and electronic music, Splice and Landr are ideal solutions. If you like hip-hop and pop music, then ProducerMusic is the platform for you.
Regardless, if you are unfamiliar with uploading a track, you can find more details on our guide on how to upload a song/track to social media platforms.
Although you can find plenty of royalty-free loops out there, in many cases you will find out that it is better to pay for samples, in terms of quality and legality.
Best Music Samples and Loop Sites
Below, you will find some of the top music samples and loop sites as of 2020. If you have any site you think should be on the list, comment it below.
---
Splice – Best for electronic artists and beatmakers
Best For: Electronic artists and beatmakers
Price: Starts from $7.99
Royalty-Free: Yes
Special Features: Free trial (2 months for free), automatic back up, Web DAW, great plugins
---
Landr – A wide range of samples and packs
Best For: Lofi, Beats, Trap, and Rock. 
Price: Starts from $5.99
Royalty-Free: Yes
Special Features: Web DAW, automated mastering, digital distribution service, plugins
*Check out our Landr review
---
Sloopy – High-Quality Sounds
Best For: Hip-Hop, Beats, and Rap
Price: Starts from $7.99 
Royalty-Free: Yes
Special Features: Lots of free sounds
---
rLoops – Highest Selection of Loops, Samples, and ToolKits
Best For: Hip-Hop, R&B, Dance, Dirty South, and Pop
Price: Pay by product
Royalty-Free: Yes
Special Features:1,479,411 samples, MIDI files, 5GB of free sounds
---
BVKER – Best for trap, hip hop & drill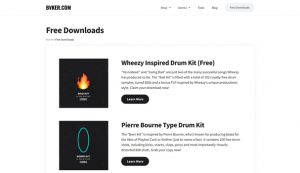 Best For: Trap, Hip Hop & Drill
Price: Starts from $8
Royalty-Free: Yes
Special Features: Over 2 GB of free sounds and samples
---
Producer Loops- Best for professional music producers
Best For: Reggaeton, cinematic, hip-hop, techno, and trance
Price: Pay by product
Royalty-Free: Yes
Special Features: Plenty of MIDI samples, DAW templates, VSTI sounds and presets
---
LogicPro (DAW) – Best for beginners
Best For: Newbies and beginners
Price: $199.99
Royalty-Free: Yes
Special Features: DAW, easy to use, BPM adjustment, 8185 loops
Beginners can also use GarageBand for Mac and iOS that is free to use. 
---
Bottom line
So you have a list now of some of the best music samples sites out there. We genuinely believe that you can create plenty of good tracks by using these sites and DAWs. Essentially, making music with samples is an important skill to have but it is also a great hobby. Sometimes, you'll find yourself looking for samples for hours, almost as if it is a game.
Further, if you are looking for a music distributor, we highly recommend Ditto music. Their distribution service costs $19.99 per year and they have a great and easy-to-use platform.
Latest posts by AllinAllSpace
(see all)