Reading Time:
2
minutes
Digital assets are slowly but surely moving towards becoming an accepted payment method. Huge global companies like Microsoft, PayPal, Etsy, Starbucks, and HomeDepot – are some of the marketplaces where you can use your bitcoin and other popular altcoins. And now, if you own other altcoins, you can use them to book a flight and hotel with CheapAir.com
How to book a flight with altcoins?
Bitcoin, the king of the crypto market, is a cryptocurrency intended as a means of payment for goods and services including flights. Presently, you might find several airlines that enable you to book flights and hotels with Bitcoin, including booking a flight with Bitcoin via CheapAir.com.
But, quite recently, the American online travel agency CheapAir.com announced more digital assets as a payment option to book flights, hotels, and cars. These include:
Bitcoin (BTC)
Bitcoin Cash (BCH)
Ethereum (ETH)
Dogecoin (DOGE)
Gemini (GUSD)
USD Coin (USDC)
Paxos Standard (PAX)
BUSD
Dai (DAI)
Wrapped BTC (WBTC)
So, how does it work? Pretty much the same as using any other payment method. If you own one of the coins above, simply follow the steps below:
Go to CheapAir.com and choose a flight.
Choose and approve your trip details.
Fill in all your personal details on the next page and click on Purchase at the bottom of the page.
Choose whether you want to pay directly with bitcoin or use one of the crypto coins above. If choosing the latter, you'll be funneled to BitPay where you need to choose your wallet.
Booking a flight with cryptocurrencies
Much like any other online travel agency, the first thing you need to do is to choose a flight (or hotel), the terms and conditions of the flight), and approve the transaction.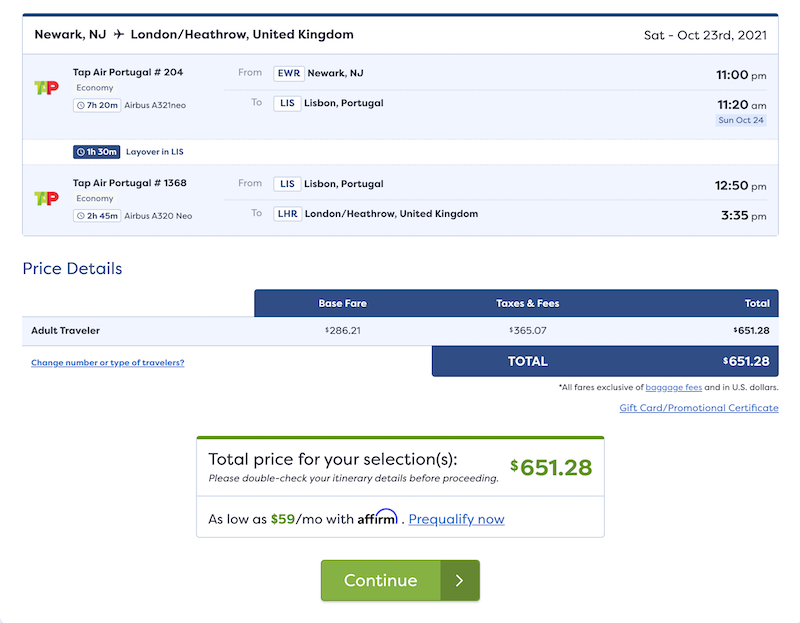 Once you confirm the details of your trip, you will then be channeled to the payment page. On this page, you need to insert your personal details and click on the Purchase button at the bottom.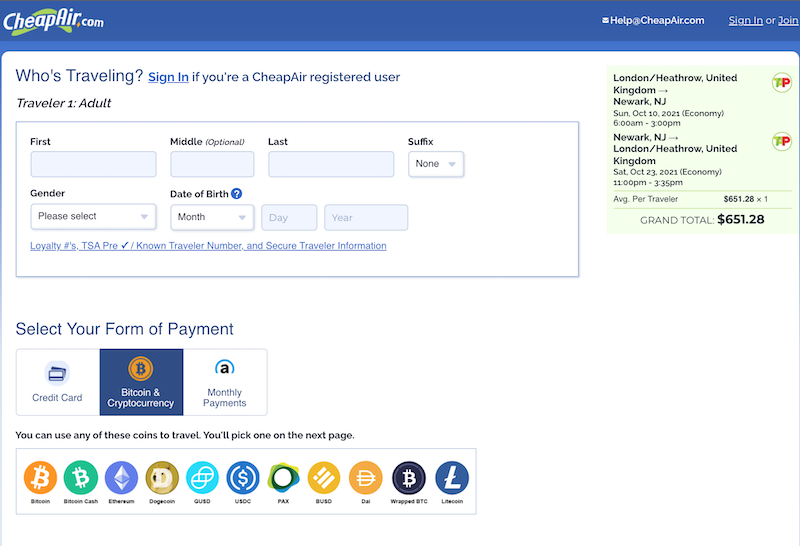 Now, you can choose your preferred cryptocurrency. If you wish to pay with Bitcoin, CheapAir.com enables you to it directly from its website. However, if you want to use any of the other available digital assets, then you need to click on the Pay via BitPay button and choose the wallet you have. If it's not supported, you are obviously required to open a wallet that is fully supported by BitPay.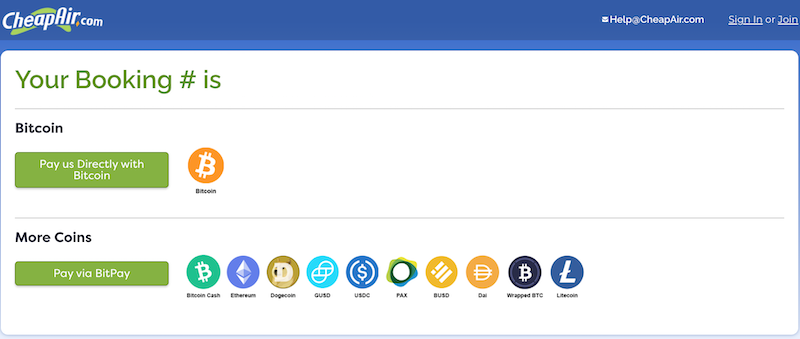 Then, BitPay connects you to CheapAir.com and the funds will be charged from your wallet. You will immediately get a confirmation from CheapAir.com about your flight order, and… that's it, you have purchased a flight/hotel/car with a cryptocurrency.
Latest posts by AllinAllSpace
(see all)