Reading Time:
5
minutes
Food engineering has become a fascinating field that, in an absolute way, will have a huge impact on the future. The global trend of vegan food and the awareness of animal sufferers have grown in the past decades, and with the inability to feed the growing population across the globe, a new solution in the form of food engineering has emerged.
One of the leading companies to produce plant-based meat substitutes is Beyond Meat, which develops and manufactures a variety of plant protein-based food products. Here's what you should know in a nutshell about Beyond Meat and its stock.
The evolution of food engineering (cultured meat)
Well, you most likely have heard about the first cultured beef burger patty which was made from over 20,000 thin strands of muscle tissue and cost over $250,000 for Dr. Mark Post to produce in 2013. The revolutionary synthetic burger was eaten at a demonstration for the press in London and at the time it seemed that it might take a long time before cultured beef will be sold to the public.
And so, in less than two years, prices of lab-grown burgers have dropped to as low as $3 a patty. How did it happen? Should we be concerned about it?
Following the $250,000 artificial meat hamburger that was presented to the world's media, the technology has entered a new stage with companies like Mosa Meat and others developing the industry of clean meat.
In December 2018, Israel-based Aleph Farms unveiled the first steak grown in a laboratory that integrates both muscle and fat tissue. That was one of the main obstacles of cultured beef producers and opened a new path for artificial beef manufacturers.
So far, 2019 has been the year of cultured beef companies with companies such as Beyond Meat, Mosa Meat, Impossible Foods, and other lab-grown meat producers starting to sell their products in retail shops, gaining the approval of food enforcements around the globe, and entering a period of a bubble in the stock market.
Looking ahead in the future of cultured beef, we can not yet conclude that lab-grown meat will be better for the environment and human nutrition (opinions are split about the nutritional benefits of cultured beef). But, if we have to look at the bright side, then the dependency of humans in animals as the main food source might come to an end for the first time in history. Moreover, meat born illnesses like salmonella, E.Coli, and the mad cow will be reduced significantly as lab-grown meat can be supervised and contain fewer risks.
Beyond Meat – The future of meat
With a market cap of $12.2 billion USD, Beyond Meat is now trading at a higher price as investors are pricing in the huge potential of the company. Note that the company is not profitable yet and is a relatively small company in terms of production and revenues. Yet, same as Bitcoin was the pioneer in the crypto market and Canopy was a pioneer in the cannabis market, it seems that Beyond Meat is the first cultured meat brand to break into the mainstream headlines.
Beyond Meat will definitely be part of future food. "Fundamentally you have a business here that is real and that is in the early innings," said Walter Robb, former long-time Whole Foods CEO. "They [Beyond Meat] have sales orders for the next two or three years in the fast-food industry and the grocery industry."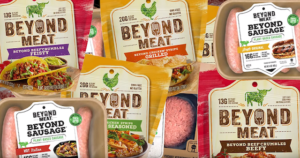 Beyond Meat burgers can be found in retail shops such as Safeway, Sprouts, Kroger, ShopRite, Giant, Harris Teeter, publix and maijer and in these restaurants: TGI Friday, BurgerFI, Veggie Grill, Carl Jr., Del Taco, and A&W according to the Beyond Meat website.
Beyond Meat's beef burger – Is it healthy?
You won't find a conclusive answer to this question and it might be a controversy in the near future. Saying that the company's products are healthier than beef is not yet certain and questions arise about the nutrition of Beyond Meat products. At the end of the day, artificial burgers are still highly processed foods and processed food has not been around long enough to provide the necessary nutrition.
As a result, the company and its competitors are facing pressure to disclose the ingredients and production process.
Beyond Meat is made from a pea protein base, but it contains all the core nutritional elements of meat, such as amino acids, lipids, minerals, and water. The Beyond meat products, however, were designed to be made without, gluten, soy or Genetically modified organism (GMOs) which is nutritionally better than real beef.
Nutritionists support Beyond Meat and cultured meat producers although they claim for an unfinished product and just another step to produce the perfect alternative for real meat. It is important to note that although Beyond Meat Burger has no cholesterol and less saturated fat than beef — but its fat, calories and other bad nutrition may be as high as regular burgers.
The comfort, at least for now, of producing cultured meat burgers is the reduction of risks and illnesses to humans and the new technology that can stop the industrial food animal production.
How to buy/sell Beyond Meat (BYND) stock?
The Beyond Meat (SYMBOL: BYND) stock was launched to the public on May 2nd, 2019 at $25 and since then had an incredible surge in price. The Beyond Meat (BYND) stock is trading at 222.86 at the time of writing and the potential for a further increase in price is huge.
For those who wish to invest in Beyond Meat stock through exchanges, you can open an account and trade the Beyond meat stock at ZacksTrade, which offers low commissions and advanced trading platform. For traders and investors outside the United States who wish to trade Beyond Meat CFDs (Contract for difference), you can open an account and buy/sell Beyond Meat stock with Plus500.
Risk Disclaimer: 80.5% of retail investor accounts lose money when trading CFDs with this provider. You should consider whether you can afford to take the high risk of losing your money
Beyond Meat (BYND) Stock Technical Analysis
The Beyond Meat stock has reached another all-time high, trading at $222.86 as of July 25th, 2019. Since its IPO, the Beyond Meat stock has surged 734% and some might even call it the next bubble. Looking at the stock from a technical analysis perspective, indicators signal a stable bullish trend.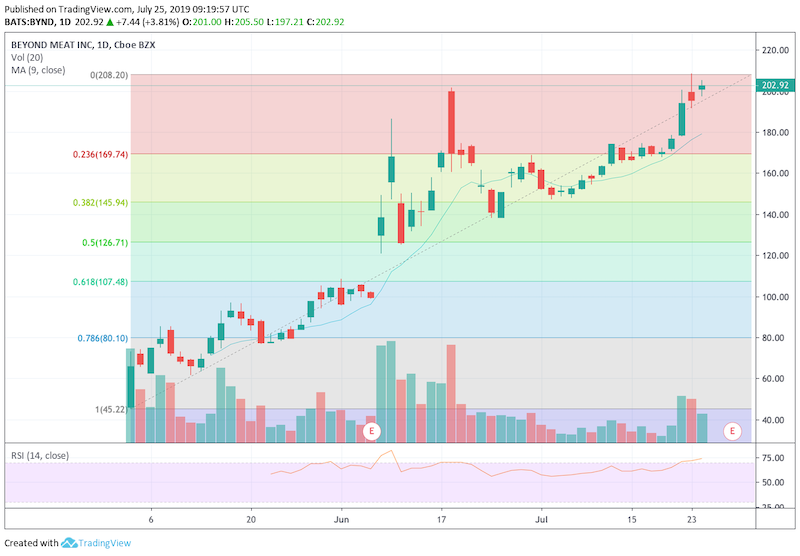 As you can see in the chart above, RSI (Relative Strength Index) is at 74.27, which is above the 70 oversupply line but does not signal the end of the trend. The break above the 208.20 line signals another bullish trend, otherwise, a correction to 169.74 is expected.
Latest posts by AllinAllSpace
(see all)