Reading Time:
4
minutes
Wireless speakers have become a dominant force in the music industry. No more wires and cables strung Along Your Walls. In recent years, a variety of wireless speakers were developed and became smarter and more capable than ever in terms of size, price, and quality. And yet, there's one wireless speaker that stands out among others, the Soundboks 2 and Soundboks 3.
Soundboks created their products for specific users with a need for loud volume and a wireless connection. They have managed to create an extremely loudspeaker, a relatively lightweight (33 lbs) and solid wireless connection.
In this article, we will review the Soundboks 2 as well as the Soundboks 3 which is expected to go on sale on August 16 beginning at 9 AM CET in Europe and 9 AM PST for the US/CAN webshop.
Soundboks products
Currently, the company offers the following products:
Soundboks 2
The Soundboks 2 wireless speaker is the main product offered by the company. Soundboks also provides additional products that support the Soundbok 2. Those include the Soundboks backpack, the battery boks, and the charger 2.
Though you can still find the Soundboks 1 on second-hand boards (eBay) at a price of around $500, the Sounbboks 2 is the successor of the Soundboks 1 and is better in all aspects. For example, the Soundboks 2 plays louder than the SOUNDBOKS 1 by 40% and has the functionality to play indoor and outdoor compared to the Soudnboks 1 which is suitable for outdoors only.
The Soundboks 2 contains all the necessary features to use the speaker for parties, concerts, and outdoor events. The design of the speaker looks similar to a festival and concerts speakers and its dimensions (25.6 x 17 x 13 in/66 x 43 x 32 cm) are in a good size to place the speaker at a big event and carry it quite easily as a portable speaker with two handles for easy lifting or you can purchase a backpack at a price of $129.
Soundboks 2 Seek Discomfort Limited Edition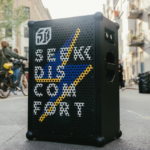 The Yes Theory speakers or the Soundboks 2 Seek Discomfort limited edition is still on sale as of August 13. Soundboks has recently released the ultimate limited edition portable Bluetooth speaker in collaboration with Yes Theory at a price of $949 and the package includes the Sounboks Yes speaker, battery boks, charger, and aux cable.
Soundboks 3 – Available on August 16
The Soundboks 3 will be available on August beginning at 9 AM CET in Europe and 9 AM PST for the US/CAN webshop. The company is expected to have limited stock available on the preorder day.
Soundboks 3 specifications are not available yet, however, we guarantee to review the new speaker following its launch.
Soundboks 3 specifications
Volume: Up to 126dB
Weight: 34 pounds (15.4 kg)
Dimensions: 66 × 43 × 32 cm / 25.6 × 17 × 13 inches (H × W × D)
Battery Life: 40 hours at mid-volume, 5 hours at full volume, 3.5 hours full recharge
Connectivity: Bluetooth 5.0
Acoustics:

Effective frequency range: 40Hz – 20kHz, custom sound profile with bass enhancer
Additional Features
Combo Microphone / Instrument Inputs (XLR, ¼")
Swappable grill and batteries
UI Panel – Volume control/Host/Join mode for wireless TeamUP
Soundboks 2 specifications
---
Volume: Up to 122dB
Weight: 33 pounds (15 kilos)
Dimensions: 25.6 x 17 x 13 in (66 x 43 x 32 cm)
Battery Life: 40 hours on moderate volume, up to 8 hours on full volume. 3.5 hours full recharge
Connectivity: Bluetooth 3.0 (Up to 60 feet/20 meter range) / 1 x ⅛" (3.5mm) Stereo Jack
Acoustics: Effective frequency range: 40Hz – 20kHz, Psychoacoustic sound design
Additional Features
Weather and splash resistant
2 x Ø56mm bass reflex ports
Simple user interface with volume knob (going to 11)
3-step mode switch
Compact battery port
1 x Ø35mm Pole mount
Soundboks 3 vs Soundboks 2
Here are some of the main differences between the new Soundboks 3 and Soundboks 2: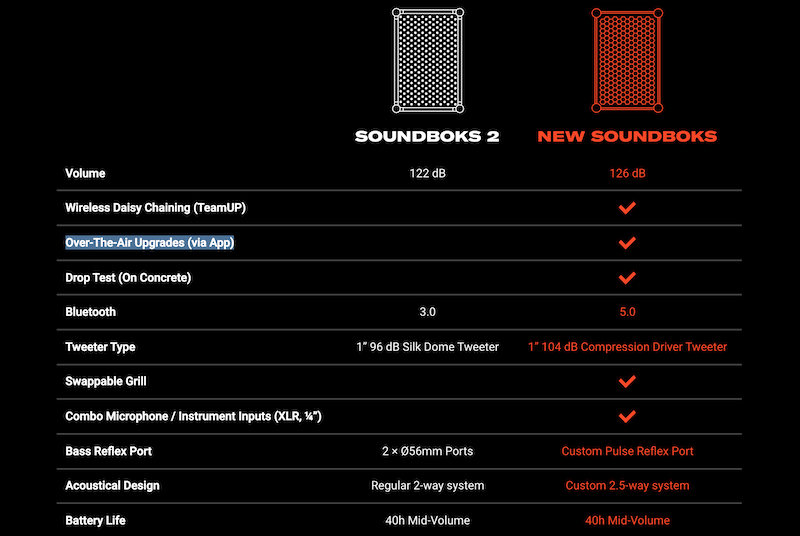 Soundboks 3 release date
As mentioned above, the Soundboks 3 will go on sale on August 16, 2019, beginning at 9 AM CET in Europe and 9 AM PST for the US/CAN webshop. We will update the review once the new product is available.
---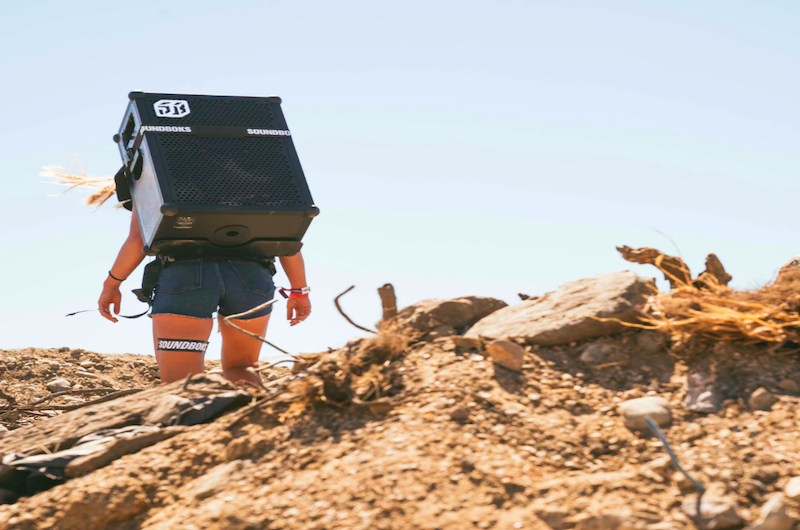 Bottom line
Soundbox is the loudest wireless speaker you can find these days and its high-quality is unquestionable. The company knows how to produce great products with an extremely loud and clear sound and additional products that make the Soundboks 2 and Soundboks 3 among the best wireless speakers in the world. The only question: does it matches your needs?
Compared to other wireless speakers, the Soundboks 2 is a bit pricey though you get a different type of product. If you are looking for a solid volume in your room or a lightweight wireless speaker to carry in your luggage, you might want to check out some of these speakers:
---
Otherwise, the Soundboks 2 is famous and successful due to its high volume, stable wireless connection, lightweight and additional features that make the speaker a special product. If you organize parties (outdoor or indoor), own a dance bar, you have an open space that you can play loud music, or you like traveling with a big speaker, then Soundboks products are perfect and you will most likely not find a better speaker. Though it's a bit more expensive than other wireless speakers, it's a top-notch product for a specific target.
Soundboks 2 Wireless Speaker – Buy Now 
Latest posts by AllinAllSpace
(see all)