Reading Time:
3
minutes
On December 2nd 2019, a 3,000km-long pipeline that starts from the Chayanda field in Yakutia, through Primorski Kai and ends in China has completed its first operation. The first shipments of Russian natural gas to China, which is the first-ever pipeline between Russia and China can be a major game-changer and a key factor for global trade.
The pipeline also has a huge impact on the geopolitical map and natural gas exportation. China now becomes Russia's top export market and the capacity of Pipeline of Siberia will be accountable for about one-sixth of China's gas demand.
Obviously, the project is forging closer ties between Russia and China, creating an alternative to Western domination. Consequently, the United States along with Ukraine and Central European countries have criticized the project, claiming it is likely to increase Europe's dependence on Russian gas and eventually helps Russia using it for political purposes.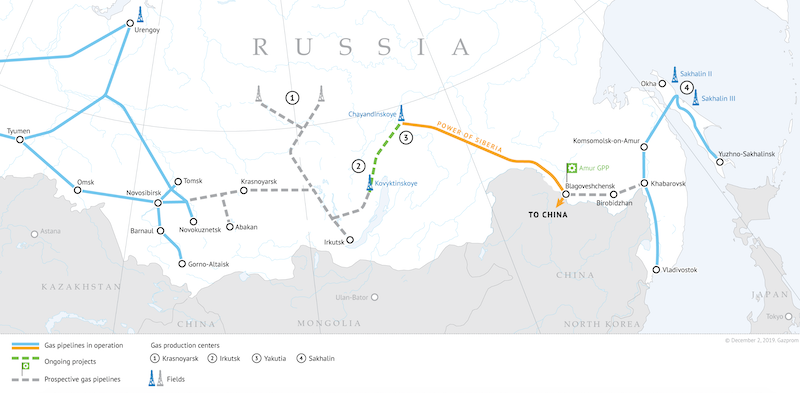 ---
A new era of natural gas geopolitics?
Natural gas is a commodity that is clearly dictated by seasonal variations in demand and geopolitical considerations. Russia is the leading natural gas exporter with the world's largest natural gas resources and the second-largest oil exporter. These provide Russia economic and political strength which can be helpful with their ultimate goal to disconnect from the West.
The Power of Siberia Pipeline allows Russia to expand its services outside the European market, which so far has been Russia's main market. Along with the Nord Steam 2 pipeline to Germany and the TurkStream pipeline to Turkey and Southern Europe, Russia efforts to strengthen its power as the largest natural gas exporter and diversify its customer base across a wider geographic area.
The $400 billion deal between China and Russia says that the first must supply China with 38 billion cubic meters of natural gas per year for the next 30 years.
Presumably, China will be able to take advantage of lower prices than European countries though both countries have not yet revealed the contract details.
How the Power of Siberia Pipeline will affect natural gas prices?
It will take some time until the Power of Siberia Pipeline will have some major effects on the market. Yet, as the number of natural gas transportation routes increases, the risks of a natural gas shortage will be reduced. China, for example, has a wider selection of natural gas suppliers – The United States, Papa New Guinea, Myanmar, Turkmenistan, Uzbekistan, Indonesia, and more.
When it comes to Liquified Natural Gas (LNG), there's a growing competition globally that's likely not to end anytime soon. This could be a catalyst for the ongoing stagnation of natural gas prices.
As a matter of fact, the main result of the Power of Siberia Pipeline might be on coal prices. The Power of Siberia will ship gas to northeastern China, an area that uses coal as the main energy resource. China joins the global trend to replace coal by natural gas to generate electricity, and if there's a trading opportunity here is to short coal.
Perhaps the most significant implication of the Power of Siberia Pipeline is political and threats from the United States and Central European countries on Russia and China will no longer be a political weapon.
Latest posts by AllinAllSpace
(see all)