Reading Time:
4
minutes
Information and data security have always been considered matters of importance, and as more and more aspects of our lives become digital, it is no longer a matter of importance but a necessity. Therefore, it is no surprise that investment in cybersecurity has been growing steadily, both by the companies wishing to increase their safety measures and by investors wanting to take part in this growing industry.
However, the cybersecurity landscape is far from homogenous. There are several companies that specialize in data protection, while others manage it as a unit or part of a larger business. Therefore, it is a good idea for those who wish to invest in cybersecurity stock to understand the field and familiarise themselves with the main actors in the industry. 
Invest in CyberSecurity – Your capital is at risk
Why Cyber Matters
In 2018, cybersecurity took center stage, after the infamous Facebook-Cambridge Analytica scandal, in which personal data from Facebook was obtained and sold by a third-party app, highlighting the need for privacy and security online. The scandal had many companies rethinking their security and privacy policies and the introduction of the EU General Data Protection Regulation (GDPR) implemented in May 2018 also brought much-needed attention to the subject.
While almost all companies were quick to refresh their privacy policies, there is more involved in security than just telling users that their information is private. With so much sensitive data being collected and stored, companies need to be sure that their infrastructure is secure. And that's where cybersecurity comes into play.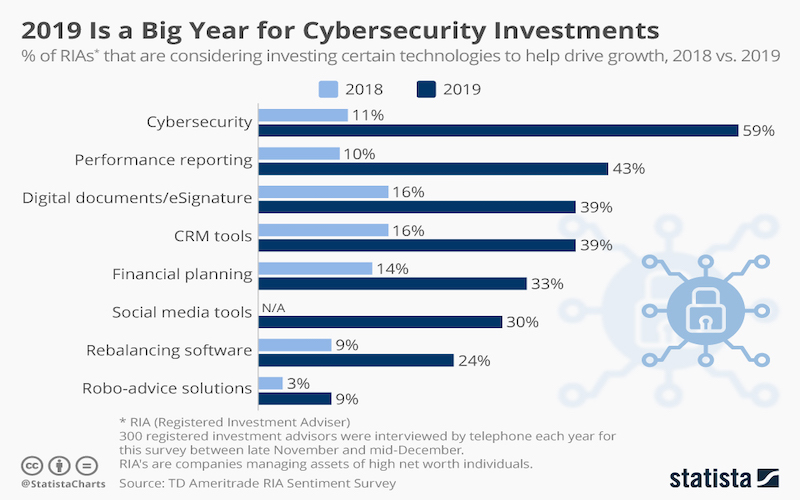 5

Cybersecurity Stocks to Watch
There are hundreds, if not thousands, of companies working to make organizations and the Internet safer, and it is impossible to list them all. However, for those looking for a more focused, financial aspect of cyber, we have gathered several big names that are leading the online world to a safer place.
Blackberry 
Although gaining its reputation and initial success as a cellphone company, in recent years, Blackberry(NYSE: BB) has pivoted into an enterprise-ready cybersecurity company. In 2018, Blackberry acquired cybersecurity firm, Cylance for $1.4 billion, instantly positioning it as a prominent player in the cyber sector. Under Blackberry, Cylance is using its integrated, AI, Machine Learning and algorithm-based methods to combat cyber threats, by predicting attacks, distinguishing between normal and suspicious user behavior and analyzing hacker mentality. With a market cap of more than $3 billion, Blackberry is without a doubt a cyber-company to watch.
Cloudflare
Only going public in September 2019, Cloudflare (NYSE: NET) is an intriguing company, which has attracted much attention. As part of its comprehensive service suite, which includes a content delivery network (CDN) and an optimizer, which increases download speeds for various websites, Cloudflare also offers cybersecurity services. Its Cloudflare Security service protects websites from a variety of cyberattacks, such as SQL injections, DDoS, spam and more. Being a fairly new publicly-traded company, Cloudflare's $525 million IPO and its market cap of more than $5 billion have generated much interest among investors. 
Crowdstrike
Two of the hottest buzzwords in cybersecurity and tech today are "endpoint protection" and "machine learning" — and Crowdstrike combines both of these concepts. Going public in mid-2019, Crowdstrike (NASDAQ: CRWD) is another company that cyber investors are eyeing. In the course of its first trading day, Crowdstrike's stock closed at $63 per share, nearly double its IPO price of $34. It was clearly riding the success of several high-profile news stories, including its uncovering of a hack into the servers of the US Democratic National Committee. The company's stock price has declined since then, but still sports a market cap of nearly $10 billion. 
Fortinet
With nearly two decades of experience in cybersecurity, Fortinet (NASDAQ: FTNT) is a well-known name in the world of organizational protection. From firewalls to antivirus software, intrusion prevention technologies and endpoint security, this company is considered a global leader, sporting a market cap of more than $18 billion. 
IBM
One of the world's first computer manufacturers, IBM's reputation has preceded it for more than a century. However, this multinational tech behemoth does much more than manufacture computers and among its many dealings, it is also a cybersecurity powerhouse. Offering cloud security services, Security Information and Event Management (SIEM), encryption, fraud prevention and much more, IBM (NYSE: IBM) is another global leader in keeping networks safe. IBM's cyber operation is just one department in a massive, $119 billion conglomerate.
Investing in Cybersecurity Stocks
Naturally, there are numerous other companies that could be looked into, if you are considering investing in cybersecurity. However, there is also the possibility of investing in an investment vehicle, like eToro's CyberSecurity CopyPortfolio. The cybersecurity market will most likely continue to be a major segment in tech, and expand even further, as a greater emphasis is placed on data security by companies from a variety of industries.
eToro is a multi-asset platform that offers both investing in stocks and cryptocurrencies, as well as trading CFD assets.
---
CFDs are complex instruments and come with a high risk of losing money rapidly due to leverage 75% of retail investor accounts lose money when trading CFDs with this provider. You should consider whether you understand how CFDs work and whether you can afford to take the high risk of losing your money.
Latest posts by AllinAllSpace
(see all)