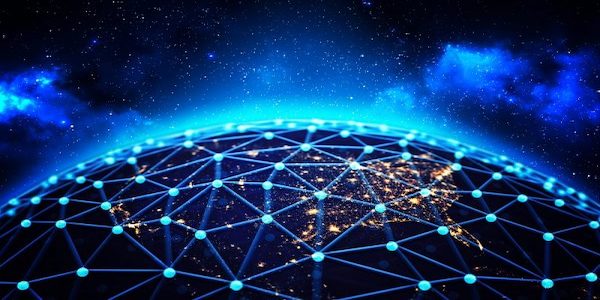 Reading Time:
4
minutes
So you probably heard about blockchain, a strange technology that few actually understand. You read an article that glorifies the new invention and can not really understand the logic, a friend tells you that the invention of blockchain technology is comparable to the invention of the internet or electricity??? New jobs and industries are built upon technology. You want to be a part of it but how? How can you invest and grow along with the blockchain technology?
Long story short, what is blockchain?
So, remember when you were a kid and went down to the grocery store to buy candy or something else and the seller had a ledger with all the payments? Imagine the transaction between you and the seller could have happened electronically with a decentralized ledger. 
This is the idea of blockchain – to eliminate third parties with any factor that includes a database (money, goods, votes, and property).
That is the main reason why you see articles that explain how blockchain can change healthcare, automobile, the music, finance, banking, cannabis industries and more. In a way, blockchain is an amazing invention. The big difference between the rise of blockchain to other inventions during history is that blockchain cannot touch you personally. It's not a TV, a computer, a phone or an electric guitar but the blockchain can definitely help humanity.
How to invest in blockchain technology?
Let's assume you understand the blockchain technology and want to invest in it. Same as with any other investment, you can directly invest in the instrument (usually a company or a project) or invest through the financial markets. I will make it clearer, you can directly invest in the tomatoes industry by buying a farm and grow tomatoes, you can also buy a factory that makes the boxes for tomatoes or you can directly invest in a big tomato company (private or public). Alternatively, you can buy through financial markets stocks of a big tomatoes producer.
Similarly, let's say you want to invest in the cannabis industry – you can invest through one of the producers or farmers, or you can buy the stocks of a cannabis company or even make a portfolio for cannabis stocks.
The same applies when it comes to investing in the blockchain industry. You can invest directly in blockchain companies or you can invest your money through the financial markets by buying blockchain technology stocks.
Be a part of the blockchain technology – Invest directly in blockchain companies
Buying stocks that relate to blockchain technology is one thing, and it can be rewarding. However, it is a passive investment – you are not part of the industry neither directly contribute to the blockchain progress. Let's say you really wanna be a part of the industry, then this will be a better investment strategy for you.
There are some companies that are at the forefront of blockchain technology. You can approach these companies and invest directly. Each company has its own investment payout program and you have to contact these companies to go further with the process. Usually, investing in these companies require a higher initial investment than buying stocks through the exchange or invest in an ICO that is connected to certain blockchain technology.
Here is a list of blockchain technology startup companies that have a high growth potential:
Venture Capital Firms investing in blockchain technology
How to invest in blockchain technology stocks?
Invest in the blockchain technology through the stock market
OK, so you don't have enough funds to invest as a venture capital fund or as an investor. Let's say you just want to make a profit by investing in the blockchain technology. Luckily, some dudes came up with the idea of stock exchange 200 years ago and you can just buy stocks/ETF's or any security that provides blockchain technology services. Remember, blockchain services can vary – it can be a service in the healthcare industry or in the financial markets – this factor should be in consideration when you choose your investment. Regardless, investing in the blockchain technology is a bit vague – you can do it by investing directly in a blockchain company or through cryptocurrency, wallet or computing company.
Here are some of the best blockchain technology stocks:
HIVE Blockchain Technologies
The Canadian company aims to integrate the blockchain technology through cryptocurrency mining. You can purchase HIVE stocks through the stock exchange or through a contract for difference.
Microsoft (MSFT)
Microsoft is another huge company that is embracing blockchain technology. Microsoft provides blockchain apps solutions on the Azure platform and the company even operates blockchain academy.
IBM
IBM operates a blockchain platform that delivers blockchain and cloud services. Everyone knows IBM as a stable company and investment. You can buy the stock on one of the investment banks or through a CFD broker that provides the IBM stock (be careful with high leverage).
Risk Disclaimer: 80.5% of retail investor accounts lose money when trading CFDs with this provider. You should consider whether you can afford to take the high risk of losing your money
Top blockchain technology ETF's
Another way to be involved in blockchain technology is through ETF's which is also be the safest way. Here are some of the best blockchain technology ETF's:
Reality Shares Nasdaq NexGen Economy ETF (BLCN)
Amplify Transformational Data Sharing ETF (SYMB:BLOK)
First Trust Indxx Innovative Transaction & Process ETF (SYMB:LEGR) – NASDAQ and London exchange.
Innovation Shares NextGen Protocol ETF (SYMB:KOIN) 
REX BKCM ETF (SYMB:BKC)
Coincapital STOXX Blockchain Patents Innovation Units (SYMB:LDGR) – Toronto exchange
Blockchain Technologies (SYMB:HBLK)
Evolve Blockchain (SYMB:LINK)
Best blockchain companies ICO's
The last option will be the most rewarding but also very risky. ICO's – a new innovative way to raise funds through crypto coins. Here are some of the most interesting blockchain companies that issued coins in ICO and now are trading in one of the crypto exchanges.
PATRON 
Patron is one of the most interesting blockchain companies. The Japanese company provides a sharing economy platform for influencers. Buying Patron coin is not that complicated, you can do it through YoBit – just register, transfer/buy bitcoin and look for PAT/BTC.
Latest posts by AllinAllSpace
(see all)