Reading Time:
2
minutes
Netflix has been one of the most successful stocks in the past decade. Its platform has become a default product in every house, computer or mobile device and the stock price rose from around $6.70 in September 2009 to its all-time high of $411 in June 2018.
And yet, every company has a breaking point. The growing competition in the industry and the loss of subscribers have been the catalyst for Netflix's stock price dropped 34% from its highest point in 2019 ($386.80).
Why Netflix stock is going down?
There are multiple reasons why Netflix stock price has dropped.
Growing competition – The first is the growing competition in the industry – The entrance of HBO and Disney to the online streaming service will definitely damage Netflix's revenues.
Analysts Forecasts – Analysts have begun downgrading Netflix's coming quarterly earnings and its price target.
Netflix loss of subscribers – The company reports 2.7 million new subscribers in the second quarter of 2019, missing analysts' prediction of 5 million new subscribers.
Technical correction – If you look at the charts, Netflix has never had a major breakdown. It is a possible scenario that the stock price will drop to around $164 per share.
Netflix price increase – Throughout 2019 Netflix has increased its monthly subscription cost in different regions of the world.
Netflix (NFLX) stock price technical analysis
The monthly chart shows some bearish signs for Netflix's stock price. Netflix (NFLX) forms a double top pattern in both daily and monthly charts. A break of the 0.382 Fibonacci level signals a bearish trend and the next level is expected at 213.91 (0.5 Fibonacci level).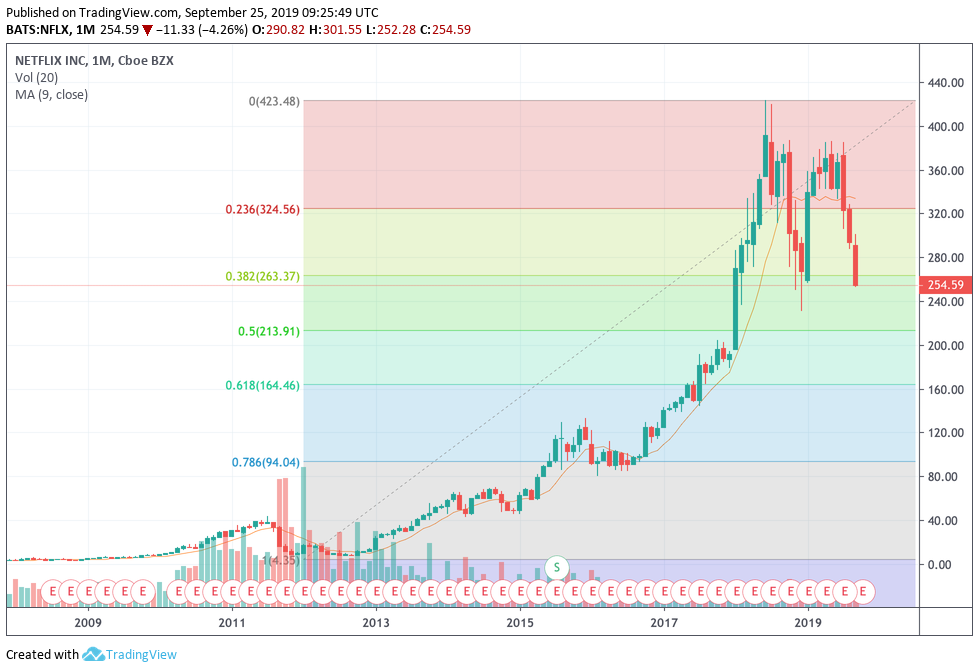 Netflix's daily chart is also signaling a bearish trend with a double top pattern. The next target is expected at $225-$232. Otherwise, Netflix's stock price might go back to close the gap between $340-$360.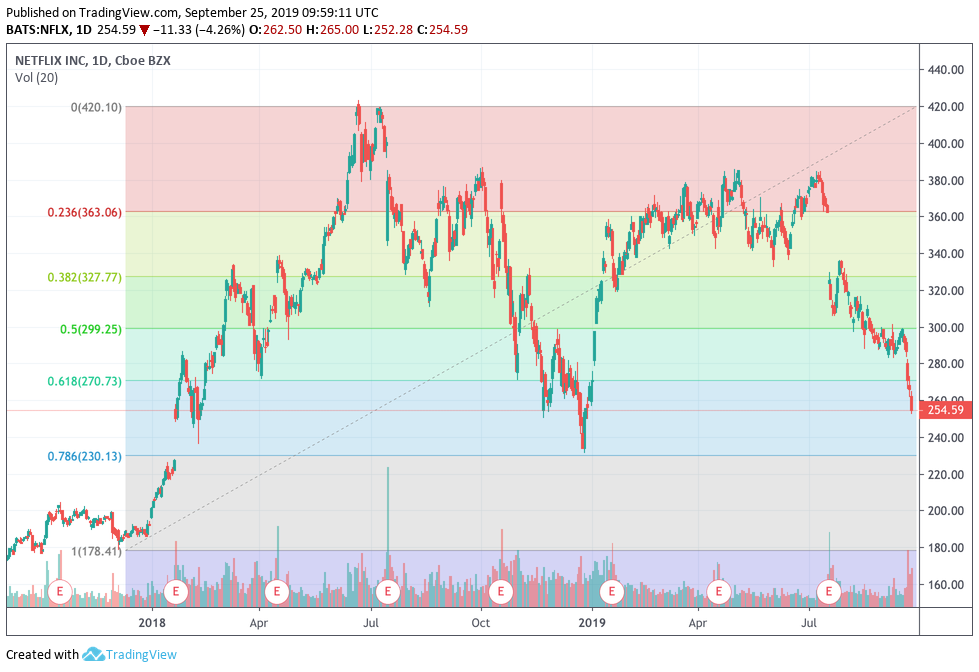 Bottom line
Things don't look so bright for Netflix at the moment. Though it's a bit risky decision to sell short Netflix, as traders say – the trend is your friend. And, as it seems now, Netflix is on a bearish trend and may continue this drop.
Latest posts by AllinAllSpace
(see all)