Reading Time:
4
minutes
Very often in life, you need to pay for services that you have no idea why you need them and how to evaluate whether it is a good service. One such service is a WordPress server hosting platform to effectively manage your website. What are you even looking for? How do you choose the right hosting platform for your site? How do you know you get a good price for this service?
Personally, I somehow ended up using Kinsta, and after three years with them, it's about time to share my experience. So here's my honest review of Kinsta.
Kinsta review – Is Kinsta worth it?
Let's start from the end, so far I'm more than satisfied with my choice. Before Kinsta, I was using another WordPress hosting, which did not answer my expectations. The site was always slow, I did not get any immediate reply from customer support, and more importantly, I could not understand the small things that a site owner must know.
Now, to be frank, I'm not going to cover all the boring stuff of features, hosting servers, etc. I'm a content creator and therefore, I do not like getting into technical issues. For me, all I need is a simple WP hosting service that gives me what is required to effectively maintain a site.
So, given the fact that Kinsta is a bit pricey compared to other hosting services – is it worth the money? After all, Kinsta's pricing starts at $35 per month, which is certainly not cheap. But, we know that in the long run, cheap turns out to be expensive, and expensive turns out to be cheap. I mean, Kinsta has branded itself as a premium managed WordPress hosting service, so you pay more but obviously, you also get more.
From my experience, Kinsta is certainly worth the money. They do have a premium WP hosting service, and if you can afford Kinsta, then I would highly recommend using them as your hosting provider. The reasons for that:
When you use Kinsta, you'll notice slightly faster loading time and reduced speed page loading times
They always support the latest PHP versions
Top-notch customer support
Their analytics tool is quite useful
Good security measures – Kinsta ensures your website is secure
They have special features for WP, including Kinsat cache – which may improve site speed
They provide a staging environment to avoid errors when you make changes
Daily and customized backups
They provide Cloudflare enterprise for free

Kinsta dashboard
When partnering with Kinsta, you'll get access to a dashboard called MyKinsta Dashboard. In there, you can literally find everything you need, including the live chat box. In a nutshell, the Kinsta dashboard is user-friendly and easy to use, even for those who are less tech-savvy. Although they recently changed the Dashboard, which in my opinion is less interactive, you can still practically manage everything you need from MyKinsta and get a view of the analytics (which to be honest, until now, I do not completely understand how's it so different that Google Analytics).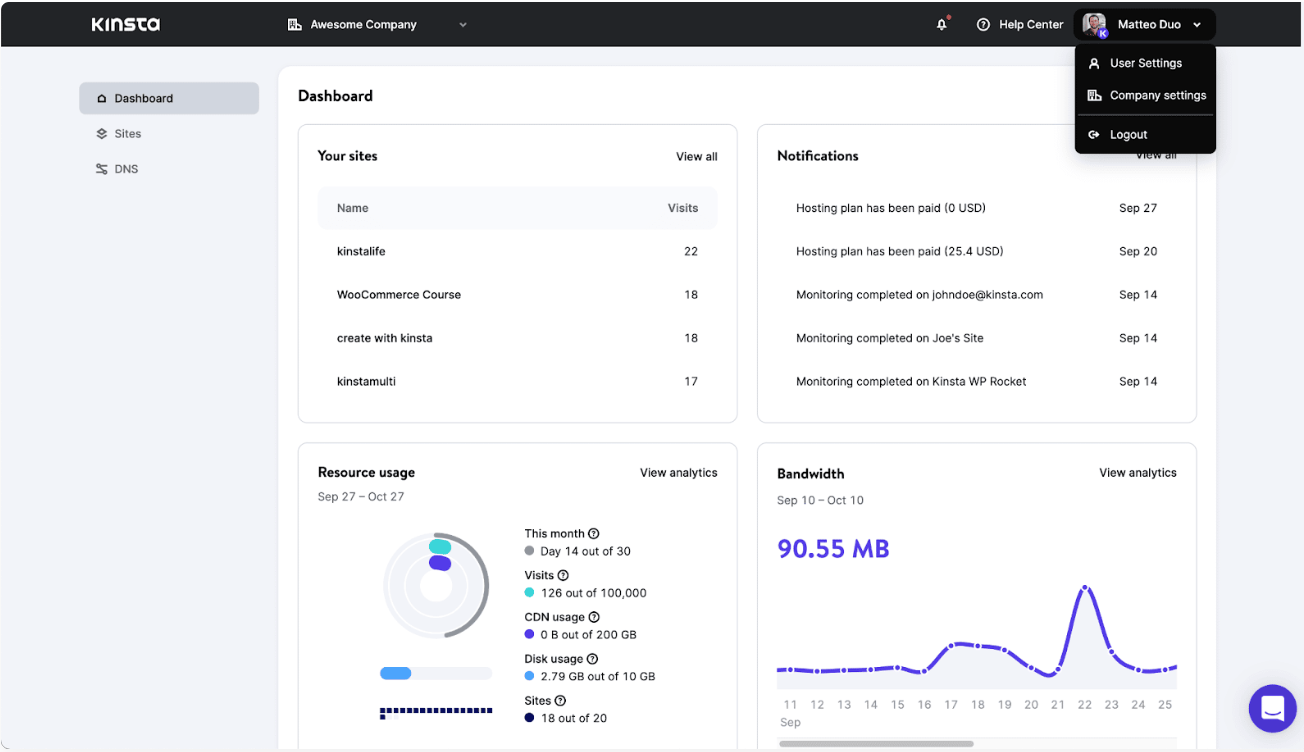 What's more, you can set up a staging environment, migrate data, use the Kinsta DNS which helps to increase traffic, manage billing issues, and access the knowledge base section. In sum, this is where you'll spend most of your time when using Kinsta. And let me tell you one thing – when you compare the Kinsta dashboard to other hosting services, Kinsta is way better.
Kinsta customer support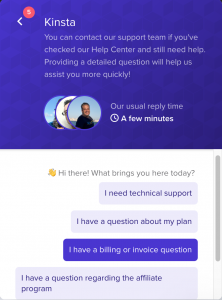 Perhaps the most convincing feature of Kinsta is its customer support service. They have a top-notch customer support team that answers all the questions you may have, all through live chat available 24/7. The only negative thing I can say about their service is that, very often, they refer you to guides and articles to solve problems. But, these days, who doesn't?
But if we put this aside, Kinsta customer support is unparallel. In a way, you feel like there are cool hipster people on the other side that can answer anything you throw at them. Honestly, I don't think it ever happened that I did not get an answer for what I needed.
Additionally, I like the fact that they send you emails about important updates and reminders about actions that you must take (like the SSL certification, updates you need to do, errors, etc.).
Why Kinsta is a good hosting provider?
Well, generally, Kinsta takes pride in offering features and services that are not available at other hosting providers.
Here are some unique features offered by Kinsta:
What's more, there are several reasons why you should choose Kinsta over other hosting providers:
---
But let's put aside all the technical features that Kinsta offers. Personally, the main reason why I'd recommend Kinsat is that I feel there's someone who protects me and informs me about things that I need to be aware of. For example, they immediately inform you when there's an error due to a certain plugin, when you have to renew your SSL certificate, or when there's anything wrong with the site. This is a crucial factor, especially for those who do not have the time to monitor those things.
My final verdict
So, what's my verdict? What's my Kinsta review? I genuinely recommend Kinsta as a hosting service provider. Funny as it sounds, it's the new age sort of type of online service. They know what are the most important issues to inform a site owner about and more importantly, you get an answer immediately from their support team.
And even though Kinsta is a bit pricey compared to other hosting providers, you definitely get what you need.
Latest posts by AllinAllSpace
(see all)