Reading Time:
5
minutes
Using a hydroponic system for gardening purposes isn't new, but it has many health benefits growing vegetables by this technology. In the past years, many people are starting to work on a hydroponic garden. They are now incorporating the hydroponic system into their home gardens and some people even do it as indoor gardening because it can help streamline the growing process while ensuring your plants grow organically. Additionally, most plants will grow much faster-using the hydroponic process. You need less space, and less functioning and can yield more fruits, vegetables, or plants, flowers and you can easily conserve both soil and water at the same time at your home. 
If you have never heard about the hydroponic systems to grow your plants, by reading this article you will get all ideas about how it works. Hydroponic systems can be expensive, but it depends on the size of your garden. If we talk about the benefits of this system it will be endless. Please check the new ideas, tips, and ways to grow a hydronic system in your home.
How to start a hydroponic garden – 5 important tips
Determine the location
The first step you need to be followed is to determine the location. You will need to locate the hydroponic system in an enclosed structure, such as a greenhouse structure or the basement of your house, or on backyard or DIY buildings outside your home yard. You will need an even floor to ensure even coverage of water and nutrients to the system's plants. If You are planning to place the system outdoor or in the backyard, try to protect the system by providing a wind barrier, and check the water levels more often due to water loss from evaporation.
Help your plants handle the heat
During the summer season, try to add some liquid kelp and humic acid to the nutrient solution for your hydroponic garden. This will help improve the plants' tolerance to excessive heat and it will help plants to prepared for hot summer days.
The ratio of 5:2 of humic acid is best for the kelp. This ratio will help to stimulate the growth of the roots of the plants which is very essential for absorbing more water during hot summer days.
This is the best combination of extra nutrients which will also help your plants to strengthen and will eventually help them to protect themselves from cell damage. 
Let those lights shine
some plants like lettuce, kale, or herbs can easily grow in a sunny window. Adding light and moving plants next to the sunniest window will result in a noticeable change in their productivity and growth. For example, you can use LED lights for hydroponic gardens for better results. 
Ensure proper air movement
The next thing hydronic plants may need apart from the direct sunshine is a natural breeze. Proper air movement will help them to keep the leave pores open for breath. It will ensure that a sufficient amount of carbon dioxide should be absorbed and the evaporation of water and oxygen should be release timely and in a proper manner.
One thing everyone should keep in mind that heavy wind can harm the plants and affect them oppositely. Because of heavy wind plants need to close their stomata to hold the water in. This is the reason why the perfect spot for your outdoor hydroponics garden is important, make sure that it does have adequate air movement but also some wind protection.
Inspect for pests and diseases
It's very important to look at the signs of pests, insects, and diseases. If a plant gets infected with the disease or insects it will swiftly infect all the other plants of the garden because all are so close to each other and insects can catch them easily. Remove all sick or infected plants immediately. This will help them to be healthier and more robust because they can use some of that energy to fight off diseases. The leaves of hydronic plants never get wet unless it rains, so there is less possibility to get leaf fungus, mold, and mildew.
3 different types of outdoor hydroponic systems
Even though all types of hydroponic garden systems are good for outdoor gardening, we still try to choose some top feed, flood, and drain, or aeroponic systems. Try to avoid deep water culture system because the temperature fluctuations of the weather outside cannot be controlled by anyone and it may cause damage to your plants.
Also, one thing you should keep in mind is that your plants will grow much faster and bigger outdoors, so you will need to promptly provide more nutrients and water if you decide to have an outdoor hydroponics garden at home.
The three different types of hydroponic systems that are commonly used for outdoor gardening are the vertical, simplified, and aquaponics systems.
Vertical Hydroponic Systems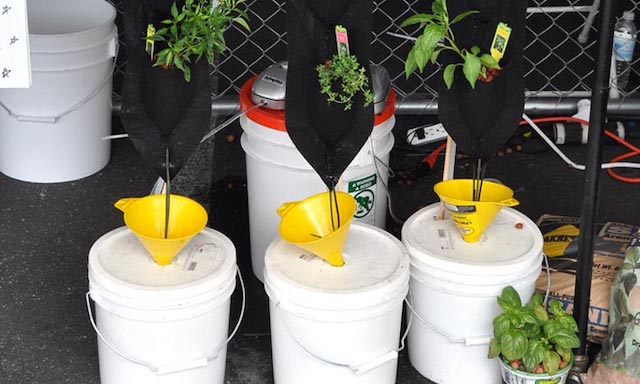 As the name suggests, these are set up vertically and will help you to save a lot of space due to their small footprint on the ground. This type of system will allow for more plants if you place them horizontally in your garden area. This type of system is also prevalent for rooftop gardens and for other limited spaces.
Outdoor Aquaponics Systems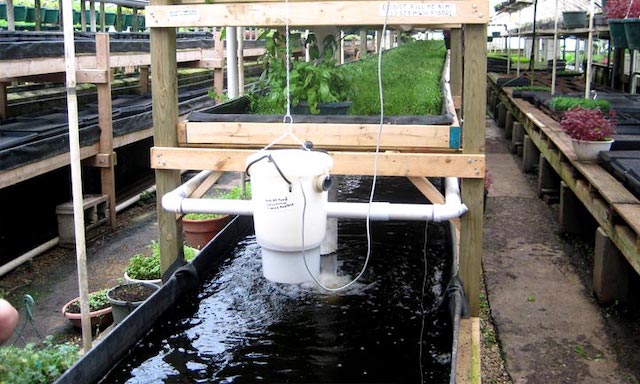 These are a combination of hydroponic gardening and fish cultivating. Frameworks like these utilize the fish squander for plant food. Clearly, the greatest preferred position of quite an outdoor framework is the way that you are creating more food – fish and eatable plants. Likewise, the way that the plants feed on the waste delivered by the fish diminishes the requirement for extra fertilization, and whenever set up impeccably can take out this need by and large.
Simplified Outdoor Systems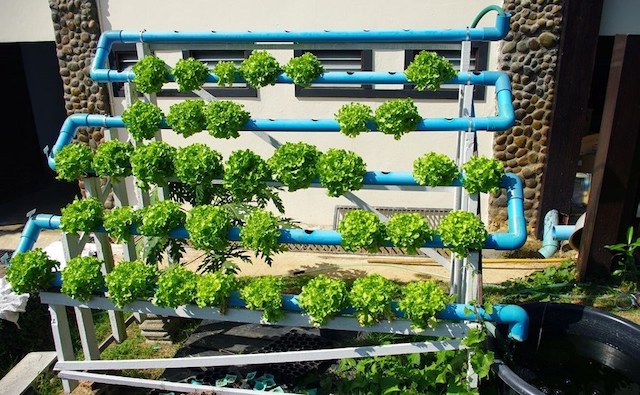 These frameworks are mainstream in non-industrial nations and incorporate soil-less gardening without the utilization of any mechanical hardware. All things considered, the flow and air circulation of the garden are done physically. The most widely recognized streamlined hydroponics frameworks are the flood and channel and the skimming bed frameworks.
The flood and channel hydroponics framework incorporates watering a few times every day, and afterward reusing the depleted water and supplements. 
The coasting bed framework requires manual air circulation through blending the water twice or multiple times day by day. This framework, however, is more vulnerable to changes in the temperature, so in the event that you live in a zone where such variances are normal, it should be dodged.
---
Author Bio – Lucerin Saldana
Lucerin writes for topics like Home Improvement, Kitchen decor, Garden, or travel-related topics additionally; he has a passion for the metal building industry for more than ten years, Lucerin has become an experienced building specialist in this industry. His goal is to help people with his vast knowledge to assist them with his best suggestions about different metal buildings such as Metal Carports, garages, barns, Custom Steel Buildings, and commercial structures.
Latest posts by AllinAllSpace
(see all)