Reading Time:
4
minutes
TrueFi entrenches itself in Defi as one of the most established procedures for investment, reputation-based loans, with innovative reward opportunities, precise price data, and a growing number of significant industry relationships. Recently, TrueFi joined Binance, the world's largest cryptocurrency exchange by trade volume, to offer TRU coins for sale on the Binance platform.
In this article, we'll show how to buy TrueFi coins on Binance. This includes a simple step-by-step guide that shows you the full process of buying USDT and exchanging them for TrueFi coins.
So, what is TrueFi coin?
TrueFi or Chin Token is the first uncollateralized lending Defi system, backed by the TRU token and an on-chain lending methodology. It is a system that enables liquidity providers to construct interest-bearing pools with high annual percentage rates. It employs TrustTokens (TRU) as a utility and reward mechanism, compensating participants for maintaining high APRs over time.
TrueFi was made possible by the integration of centralized and decentralized financial systems. TrueFi, which TrustToken created, is fast decentralizing and is one of the most promising Defi projects in the market right now.
On November 19, 2020, the TruFi coin was traded for the very first time and there are 1,441,129,427 coins in circulation. It has a market value of $738,838,207.94. TRU is now trading at $0.510 and is number 263 on Coinmarketcap, with a recent gain of 89.28%.
TRU is listed on many cryptocurrency exchanges; however, it could not be bought using fiat currency. However, you may still get this currency by first purchasing Bitcoin on any fiat-to-crypto trade like USDT and then transferring to an exchange that trades TRU. This tutorial post will describe the procedures to buy TrueFi coins in detail.
How to buy TrueFi coins via Binance?
TrueFi is quite an exotic altcoin so the process of buying the coin might be a bit complicated compared to other cryptocurrencies. Yet, if you follow the step below, you'll make it…
1. Open a Binance account
Before buying TruFi currency on Binance, you must first make an account. To open a Binance account for free, you'll have to sign up using the Binance App – By clicking the link here, you'll get a 5% reward on your deposit.
2. Fill out the needed information
Not surprisingly, you need to go through a verification process to open an account at a crypto exchange. Unfortunately, you cannot buy TrueFi via credit or debit card so you'll have to buy USDT before you make a purchase of TrueFi coins.
So, enter your trade information by clicking on the "Register" button found on the right side of the page. Use the primary email address you can readily reach since you will need it to log in to your Binance account regularly. The platform will send a 6-digit number to the email address you provided as your account's verification code for completing the registration process.
3. Buy USDT
Once you've finished the KYC process, you'll be encouraged to deposit funds and buy USDT. At Binance, you can use a credit or debit card or a bank transfer. You will pay a higher cost when using a credit card, but you can make a transaction right away. While a bank transfer is less expensive but takes longer, certain nations provide low-cost, quick cash deposits depending on your place of residency.
Here's a step-by-step guide on buying USDT using a credit card:
On Binance's homepage, click on the Buy Crypto at the top menu.
Then, choose USDT as the receiving currency and the fiat currency you prefer to use to buy USDT
Then, click continue, add your credit card details, and complete the transaction. You will receive an email for the confirmation of the order purchase. The acquired USDT is deposited to your Binance account right away.
4. Buy TrueFi
After you've established a trading account with one of the marketplaces that trade TrueFi (TRU), and you have USDT in your account, the next thing you need to do is to exchange USDT for TrueFi coins.
To do so, navigate to Markets on the top menu and search for TrueFi coin.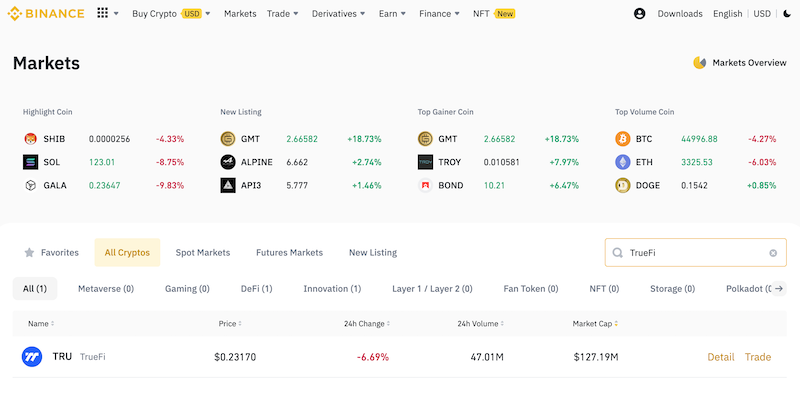 Next, click on the Trade button and you'll be transferred to the Binance exchange. .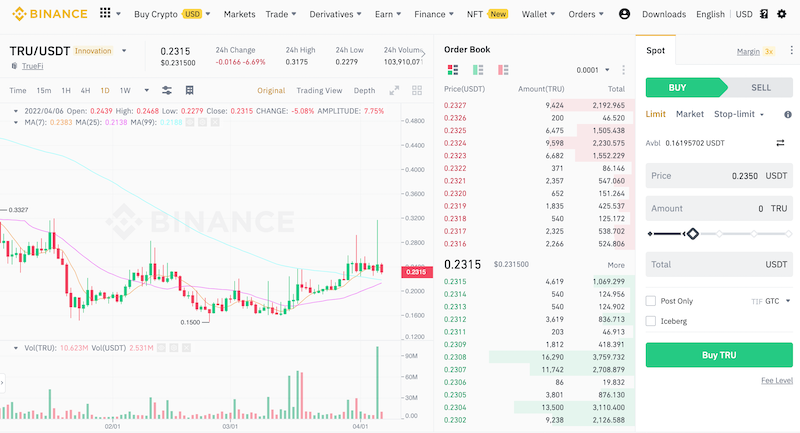 Now, insert the amount in USDT you want to exchange for TrueFi coins and click on the Buy button. Lastly, wait for the blockchain to authenticate your transaction, and… you have TrueFi coins in your wallet. If you want to check that the transaction has been made, visit the wallet and overview and search for TrueFi.
Latest posts by AllinAllSpace
(see all)