Reading Time:
4
minutes
Since late February, the Turkish lira has been in freefall as inflation in the Middle Eastern nation hovers in the double-digit percentage range. Economists predict that Turkey's annual inflation rate is poised to hit 17.17% in May, according to an Anadolu Agency poll. And, central bank Governor Sahap Kavcioglu predicts inflation will keep rising for the foreseeable future as policymakers seek to stabilize rates and the lira. 
According to Johns Hopkins Economist Steve Hanke, Turkey's inflation is even worse than it seems. His annual measured inflation rate, which is "implied using PPP from free and black market exchange rate data," hovers at 31%, just below Argentina's 32%. 
However, while Turkey's inflation rate is accelerating, the economy grows despite the Covide-19 pandemic and the economic outlook remains positive.
Economic dichotomy 
Despite the inflationary conditions, the Turkish economy grew 7% in Q1 2021 YoY, outpacing most of its G20 nation peers with the exception of China. Participants in a Bloomberg poll expect Turkey's economy to grow at 6.3% in Q1, a huge increase compared to Q4 2020 when Turkey's GDP grew by 1.7%.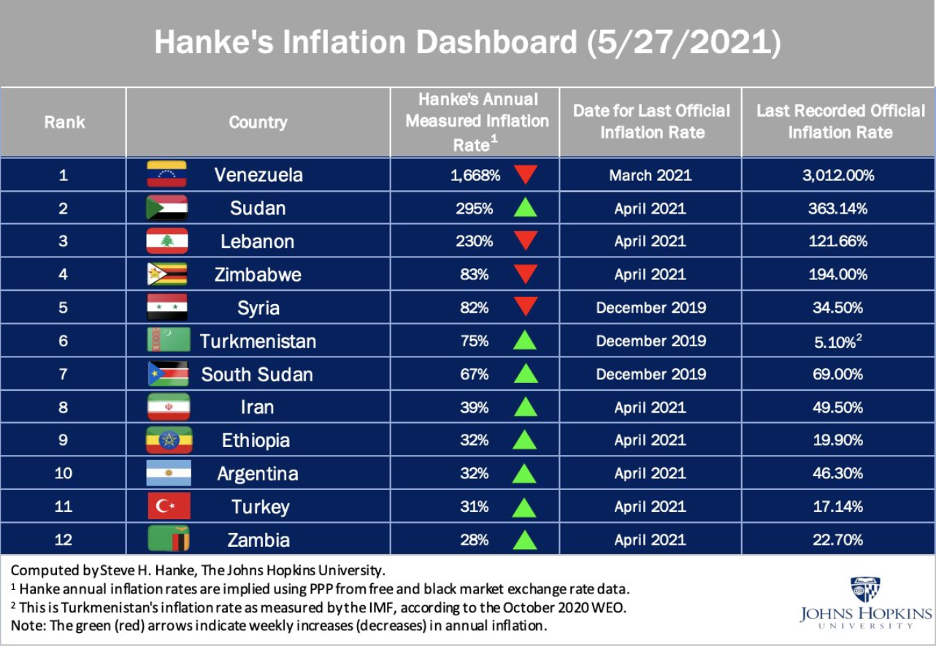 Nonetheless, Enver Erkan, chief economist at Tera Yatırım, told Bloomberg that Turkey's "economic model" is "unsustainable," explaining that the economy has been propped up by government initiatives, including spending increases and more accessible loans for businesses and individuals. This credit push compounded with loose monetary policy led to skyrocketing inflation. Eventually, these policies contributed to a lira that weakened 20% in 2020, on top of the currency's double-digit percentage decline vs. the U.S. dollar this year.   
The dichotomy between economic expansion and the inflationary rate is most apparent in Turkish households. GDP per individual dropped below USD 8,000 annually from more than USD 10,5000 just four years ago, just before a recession reared its ugly head in the country. 
The mini-recession of Turkey
The Turkish population feels the price inflation most in fuel, which is expected to spill over to staple items including food this summer. Food prices are already on the rise in Ankara, where they increased over 2% in May compared to April levels. 
Consumer confidence in the country hovers at 77.3% as of May, which is down from April levels and is the lowest reading since 2019. Turkey's so-called poverty threshold for a household with four members has been inching higher and currently hovers at USD 1,091, exceeding the minimum wage more than threefold, according to the Confederation of Turkish Trade Unions. 
The country is also struggling to shrink poverty to pre-COVID levels. Turkey suffered from a poverty rate of 12% in 2020, up from 10.2% year-over-year. Last year's inflation hung around 12% and climbed close to 20% for grocery items. 
As of 2020, Turkey ranked among the four most miserable economies in the world, alongside Venezuela, Argentina, and South Africa, according to Bloomberg's Misery Index, which is a reflection of inflation and unemployment in dozens of economies. Last year, Turkey implemented a layoff ban, which the country extended several times and will remain in effect as of May 2021. As a result, Turkey's unemployment rate held steady at 13%, though the informal workforce is said to have felt the brunt of the COVID-related damage. 
Inflationary outlook 
The latest outlook indicates that economic conditions in the country are worsening —in April annual inflation rate stood at 17.14% and the increase in prices coming fast and furious. Underpinning the forecast is the Turkish central bank's own economic outlook, which calls for inflation to end the year at 12.2%, up from a previous expectation of 9.4%. The government's target inflation rate, meanwhile, is 8% for this year, though economists are calling it a bluff. 
Turkey's inflation has been inching higher all year, rising from 14.6% in December 2020 to14.97% and 15.61% in January and February 2021, respectively. The policy rate, or the interest rate set by the central bank, is 19%. On June 17, central bankers will convene when an interest rate cut is possible. 
Turkish banker and politician, Şahap Kavcioglu, has vowed to slash inflation in the country to 5% in the next three years and is expected to implement a "tight policy stance" in the interim. Regardless, he bears the blame for higher prices on imports and a push to maintain a policy rate that surpasses that of inflation, which will be the approach until prices begin to fall. The Turkish lira, meanwhile, has plummeted to roughly 15% year-to-date, giving the country the dubious distinction of having one of the poorest showings for the period in the emerging markets.  
COVID-19 pandemic crackdown 
Turkey recently experienced a surge in COVID-19 cases, triggering a renewed set of lockdowns, which further shook an already fragile economy. Fortunately, the number of cases has abated slightly as vaccinations take hold among the population.
Following a 17-day lockdown in May, Turkey returns to a state of normalcy in which restrictions will be eased and masks will no longer be required, though social distancing measures are expected to remain in place. Restaurants and cafes will open their doors once again, though capacity will be capped at 50%. Evening curfews will likely remain, though the time window is expected to be narrowed. Turkey's "normalization process" began June 1st, as the number of COVID infections shrunk from some 50,000 in April 2021 to 7,600 as of May 29. 
Turkey's economic outlook
Looking ahead, Turkey Finance Minister Lutfi Elvan forecasts that the country's GDP will expand at a rate of more than 5% this year fueled by an increase in exports of up to 20%. For all of 2020, Turkey eked out a gain of 1.8% in economic expansion. 
The Turkish economy is expected to grow by 4.8% in 2021, rebounding from the previous year, while inflation is expected to remain well above the government's target until at least 2023.
---
This article was written by Gerelyn Terzo of Sharemoney 
Latest posts by AllinAllSpace
(see all)