Reading Time:
8
minutes
Has it been a long time that you have been longing to travel with your dog, however you find it hard or impossible? If your answer is yes, then this article is for you!
I'll start by saying that traveling with your dog is not so complicated as it might seem, however, it certainly requires some preparations.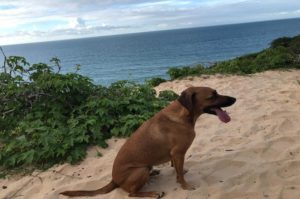 Before departing you must check if there are any special requirements in the destination country, and you will always need to ensure that you have the following documents:
Vaccination certificate

– Includes a rabies vaccine that is valid for at least 11 months

beyond your departure date

(so it is best to do the vaccination process before you

depart

). In addition, you want to have a valid distemper vaccine and give your dog a Fluralaner/Bravecto (which I also recommend taking with you on your trip). Make sure that next to each vaccine:

A. Your vet writes the date that he had given the vaccine.

B. Your vet writes the date on which the vaccine should be given again.

C. The vet pastes the vaccine's label itself and signs.

D. The vet should sign beside each vaccination.

A Signed Certificate from your private veterinarian-

This certificate is basically a document in which your private veterinarian declares that your pet is vaccinated and meets all necessary requirements to get inside the destination country, signed by your vet. This document varies from country to country, however, any vet should know which document needs to be filled out to each country.

A Signed Certificate from the Agriculture Ministry Department

– This is basically the official approval, of the General Veterinary of the Agriculture Ministry, that your pet is healthy and can be exported. There are several Agriculture Ministry Departments in each country, and usually, they are located in every city with an international airport (in Israel the Agriculture Ministry branches are divided by districts, so for example, the central branch is located in Beit Dagan). You don't need to schedule an appointment, however, you should check in advance the hours and days of reception. Note that this certificate is valid for a certain amount of

days

, so you should plan your visit in a way that the certificate would be valid when you land in the destination country (for example in Israel this certificate is valid for 10 days, however in Brazil and Colombia this certificate is valid for only 3 days).

A Certificate of Dog Ownership

– A license that is given by your local authority and declares that you are the owner of the dog.
What about the flight itself?
In regards to airline terms and conditions- Each airline company is different. Moreover, flying each dog is different and depends on a number of factors:
The dog size and weight

– Usually dogs up to 11 pounds (5 Kilos) can fly in the cabin with their owners, as long as they are kept in a carrier that meets the airline's standards (most airlines require the same cages) and has a muzzle. If the dog is over 11 pounds it must be kept in a cage with a cargo. The area where the pets are kept is heated, so you shouldn't be worried.

The dog is an

Emotional Support Dog (ESA)

or a

Service Dog (AAAM)

– This is a special certificate that declares that your dog supports or assists you (physically or mentally). There are several airline companies that allow dogs in the cabin (along with their owners and with a muzzle), as long as the owner provides them with all the required documents 72 hours in advance. Usually, the necessary documents are:

Approval of a psychiatrist/ doctor/ an institution, that the dog is an ESA/ AAAM, 

Vaccination certificate

Sometimes, airline companies require a certificate that the dog has been trained

Several airline companies request to fill out formal forms with sections that should be filled out by the passenger and his therapist.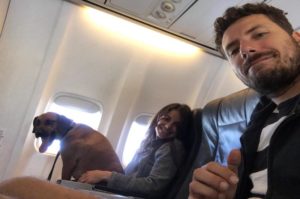 I would advise you to check in advance with each company its requirements.
How much does a dog airline ticket cost?
Each airline has its own cost, however, the cost is usually affected by the weight of the dog.
In a case that it is a Service Dog or an Emotional Support Dog, you don't need to buy a special ticket for the dog and there will be no additional costs for flying with your dog.
Some specific tips: 
If this is your dog's first flight, you should be prepared enough time in advance for the journey as well as to its new cage/carrier. Let the dog enter its cage and play inside freely several times before the flight. Another tip is to create a cozy environment by putting a blanket or a toy that your dog likes inside the cage. A flight and a cage can be traumatic for the dog so it is better not to wait for the last moment but give it at least 2 weeks to get used to the cage. 

It is not recommended to anesthetize your dog, as during the flight the dog may feel nauseous, breathing difficulties, arrhythmias, etc., and anesthesia might impact your dog's natural abilities to cope with these symptoms. However, natural tranquilizers can be a very good substitute and can be purchased in advance at veterinarians. 

In regards to the legal procedure of exporting dogs, each country has its own legislation on the subject. For example, there are some countries which require to put the dog in quarantine for several days and perform tests on it (England, New Zealand and Australia). So once you know your destination you can better prepare yourself and your dog.
For example, you can see the procedures for flying dogs to the European Union 
Traveling with your dog to and around North and South America – (Argentina, Brazil, Colombia, Mexico, and the US)
We departed from Israel and traveled to the above countries, while our first destination was Argentina. When landing, in each country, you should make sure to visit the office of the Ministry of Agriculture or custom and declare about exporting a dog. You need to make sure that all of the documents are with you as they will be checked (vaccination certificate, certificate of ownership, your private veterinarian health approval, and the approval of the Ministry of Agriculture of the origin country). In some countries you will be required to pay a nominal fee for entering your dog.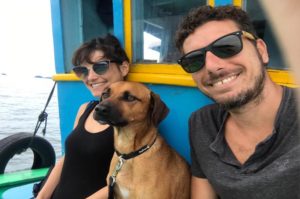 Leave a country and move to the other one
Most countries have the same entering requirements so the procedure of preparing your dog to the next destination will be usually the same. 
Your first step should be visiting a private veterinarian that will check the dog's vaccination certificate and health. Then, the veterinarian will sign a certificate that declares that he checked your dog and it meets all necessary requirements to get into your next destination (veterinarians know which form to print in accordance with your destination country). Make sure you bring the dog's vaccination certificate, your ownership license, and the approval of the Agriculture Ministry (country of origin as well as the last country you visited if visited). The vet signature (without vaccinations of course) usually costs about $30 USD (each country and its currency). Note that the vet certificate has an expiration date and it should be within the time slot of visiting the Agriculture Ministry Department (although it is not your origin country, again, you must have a certificate of this office) and your flight. It is very easy to find a private veterinarian, we usually checked on Google and chose the ones who have received 4.3 stars, as well as the ones within a walking distance from our place.
The next step would be visiting the closest Ministry of Agriculture Department while taking into consideration the number of days you have until departing to the next destination. This certificate doesn't cost money and you will find this office in every city with an international airport, just make sure you know where the branch of the Ministry of Agriculture is located, its reception days and how many days the certificate is valid. To the Ministry of Agriculture, you need to bring the same documents you presented to the private veterinarian, as well as the veterinarian's certificate, however you don't need to bring the dog. If you have difficulties in finding the Ministry of Agriculture department you can ask the veterinarian for assistance. 
Each time we left a country, we reserved three days for these arrangements. One day for visiting a private veterinarian, a second day for visiting the Ministry of Agriculture's, and a third one just in case.
For example, when we left Argentina and moved on to Brazil, we arrived in Buenos Aires four days before our flight to Iguazu and a week before entering Brazil. We wanted to have a day when we could visit the private veterinarian and figure out when are the reception days at the Ministry of Agriculture (and where it is exactly located). We also took into consideration that the Ministry of Agriculture certificate would be valid for 10 days until we reached Brazil.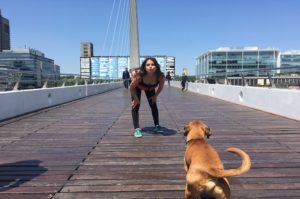 When we left Brazil and moved on to Colombia, we went to a private veterinarian who checked the vaccination certificate, gave us a signed certificate for Colombia, and with his authorization we went to the Ministry of Agriculture in Fortaleza (the city which we departed from). Brazil's Ministry of Agriculture certificate is valid for only 3 days, so we went to their office one day before our departure to Colombia. 
What about accommodation for dogs?
In most accommodation websites you will find a pet-friendly filter, which makes things very easy. Most places in South America wouldn't charge you an additional cost for the dog. In the US things are different, if your dog is a service animal you are welcome in any place you want and there are no extra fees for the dog, however, "regular dog or ESA one are only welcome in specific places that allow pets. Moreover, most places will charge $30-$50 per night.
How can I find a dog sitter/overnight boarding?
In South and Central America, we usually searched on Google "dog walker", "dog spa", "dog pension", etc. You will find options for by the hours and even overnight boarding. In the US, the best way is using ROVER.COM this App/ website is amazing and includes dozens of doggy sitters for walking, overnight boarding, etc. Each service provider has his short bio and rating, allows you to choose the most accurate sitter for your best friend. We usually scheduled meeting the sitter before closing the "deal" and so we can sense if this is the right choice for our Rani.  
Bringing your dog back to the origin country
The only thing you need is a valid rabies injection. So if the injection is valid there is no need to visit a private vet. Nonetheless, you do not need to visit the Ministry of Agriculture.   
---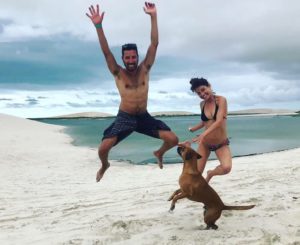 So in conclusion, if you have neglected your travels because you didn't want to leave your dog behind, do not struggle your need and just fly with your best friend. I promise you from experience that this would be the best decision you will ever make and your dog will love every moment with you.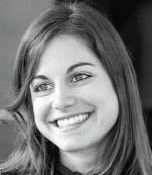 Latest posts by Daniel S.
(see all)