Reading Time:
6
minutes
The majority of internet users will do anything to avoid online advertisements, including using extensions that block ads on web browsers. But this is why Basic Attention Token is such a unique and popular cryptocurrency – online advertisements will not disappear from our online landscape anytime soon so why not get rewarded with BAT for viewing ad content?
Let's take a quick look at how this platform works, what is BAT token, why it is so special, and how to buy it.
---
---
What is the BAT token?
Basic Attention Token (BAT) is a utility token that runs on the Ethereum network and is being used as a 'currency' between advertisers, publishers, and users within the Brave Rewards platform. Essentially, the purpose of the Brave platform is to create an advertisement exchange marketplace that connects all participants of the digital marketing world – advertisers, publishers, and users in a decentralized manner. In simple terms, this platform is a Google Chrome browser alternative that pays you for using it. In our opinion, it is one of the best crypto dApps these days. It is also one of the very few cryptocurrencies with a legit use case and working product.  
Brave Rewards and BAT – What is the technology and how does it work?
The application was founded by Brendan Eich, the creator of Javascript and co-founder of Mozilla and Firefox web browsers. Basically, the Brave browser anonymously detects user attention and then rewards publishers with BATs. BAT transactions hosted on the Ethereum network which is a public blockchain that allows developers to create and deploy cryptocurrency applications. Overall, the BAT has a total supply of 1,500,000,000 BAT with 1,487,212,637 in circulating supply.
Ads on the Brave browser do not replace ads displayed on your web browser. The key difference is that on Brave, you'll see the ads as offers in the form of notifications. When users turn on these notifications, they're been channeled to a full-page ad in a new ad tab of the Brave browser.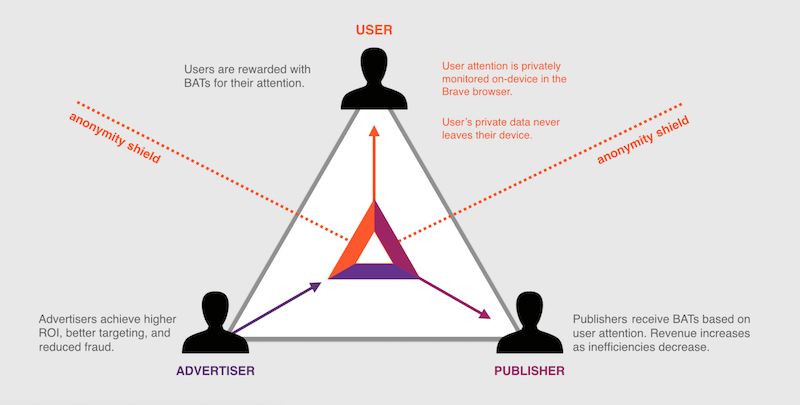 Ultimately, the main goal of this platform is to create better integration among users, advertisers, and publishers. For users, it aims to reduce the average user's mobile data for ads and trackers, which according to Brave costing as much as $23 a month. The Brave web browser also decreases mobile loading time and extends the battery life of a phone by 21%.
Publishers can take advantage of this platform by increasing the share of sales. For those unaware, almost 70% of digital ad spending going to Google, Facebook, Amazon. Finally, advertisers can get more good information on the Brave browser and get protection from bots and frauds.
Brave Web Browser
The brave web browser is remarkably surprising. Its user interface is very similar to Google Chrome but there are two benefits for using Brave: the first, privacy. Brave states on its site that most websites and ads include software that tries to identify you. That is more than likely to be true. So, Brave blocks these programs and allows you to use a private browser. Second, you can actually earn money by using a web browser. You have a 'turn on' button to enable Brave Rewards which allows you to earn tokens for viewing privacy-respecting ads. Anyway, give it a try, you can download it here.
It is also worth mentioning that the Brave browser is available on mobile. You can download it on the App Store or Google Play.
Regardless, if you are still confused, then watch the video below…
Why has BAT token become so popular?
According to CoinTelegraph, Basic Attention Token has recently become one of the most used Defi tokens. Evidently, it has an impressive daily average volume and market cap of $381,726,244 which places the coin as the 35th largest digital asset in terms of market capitalization. However, it is also important to note that some of the increase in volume occurred due to developments in another Defi project called Compound.
Nevertheless, the good news with this token is that users can easily exchange it for fiat currency or another cryptocurrency, or use it as a payment method on Brave Rewards' marketplace.
With the increase of digital marketing, it's no surprise that this token has become so popular. Ultimately, if Brave will succeed in attracting more users to use their web-browser including publishers and advertisers, it very likely that the price of the token will continue its upward trajectory.
Another reason for the increase in popularity of BAT is Brave's new partnership with Japan's BitFlyer that will enable local users to be rewarded with BAT.
How to Buy BAT token?
The most annoying aspect of digital assets, at least for me, is to find out how to buy them. But, if you are an early adopter of the cryptocurrency market, then it should not be such a hassle for you. Simply follow the steps below in order to buy BAT token.
Step 1 – Get a BAT-compatible wallet
The most recommend e-wallets for BAT are the Ledger Nano-S and Trezor. Both of these wallets allow you to store many crypto coins including the Basic Attention Token. Bear in mind that if you decide to buy BAT token via Binance, for example, you can store the coins on its built-in wallet meaning you do not have to download a wallet.
Step 2 – Find a Cryptocurrency Exchange that Offers Basic Attention Token
There are several cryptocurrency exchanges that offer you to buy the Basic Attention Token (BAT). But to make things easier, we suggest two main platforms – Binance and Changelly.
Binance is more suitable for advanced traders that wish to be more active in trading. While it is one of the largest cryptocurrency exchanges in the world that allow you to trade BAT, its user interface is a bit complex. Nevertheless, it is a good platform and the fees are low compared to most digital asset exchanges.
If you simply want to buy Basic Attention Token shares in the easiest way, Changelly is a good option. All you need to do is to visit Changelly's website, click on the Buy button, switch to US dollars (on the 'You send' box), and search for BAT.
Step 3 – Transfer the Basic Attention Token to Your Wallet
Finally, you need to transfer the tokens to your e-Wallet. Remember, if you are using Binance you can actually store the coins on its web-platform. Changelly, on the other hand, does not allow you to store your coins on its platform.
BAT Token Chart & Analysis
Well, it is challenging to analyze BAT token at the moment. Most likely because this coin is not yet covered by a lot of sites and the media.
Nevertheless, in terms of the coin's price action, the BAT token is on a nice uptrend since March 2020. It is trading in a relatively narrow range of $0.10-$0.30 but technically, the $0.30 level appears to be a strong resistance level so a break above may be a very bullish sign. Alternatively, the 0.22 may be a good support line or an entry-level in case Baic Attention Token will push downward.
Looking at the all-time Fibonacci retracement levels, BAT is trading slightly above the 0.786 support level. The next level of 0.618 is at $0.40, which may be a reasonable price target.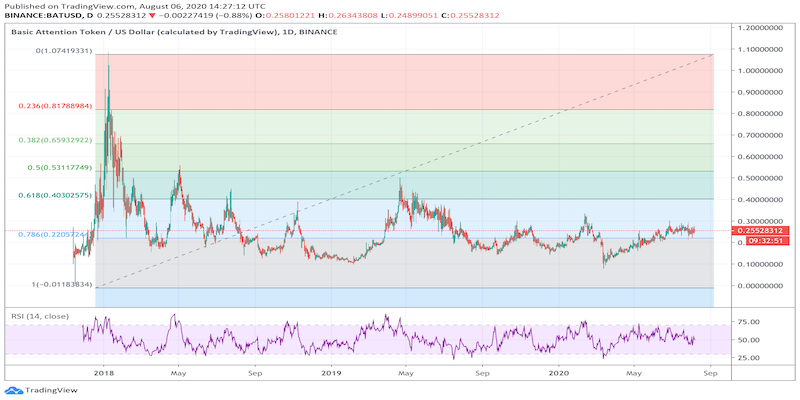 BAT/USD Technical Analysis Market Sentiment – Overall, the market sentiment of BAT/USD is neutral to buy/bullish.
Bottom Line
So, there are two things to take into consideration about Brave and Basic Attention Token (BAT). Firstly, if you are an active web user, you would love the idea of Brave Web Browser. Not only you can make some money through this, but you also get a high level of privacy and the ability to turn off ads anytime you like. Just give it a try and see how it works.
Second, the Basic Attention Token (BAT) – whether you decide to buy this coin as a long term investment or a utility token on the Brave platform, it seems as it may be a smart investment. And, if you decide to stay on the fence, just keep on eye on this token.
Latest posts by AllinAllSpace
(see all)