Reading Time:
5
minutes
The cryptocurrency market is a strange one – there are lots of cryptocurrency exchanges out there and more than 4000 cryptocurrencies in existence. This makes the crypto market sort of a jungle in terms of the selection of exchanges, the listed coins, and most importantly – the trading costs. For many traders, it became a challenge to find a cryptocurrency platform and there are so many factors to take into consideration before you choose a crypto exchange.
Personally, so far, I was a big fan of Binance. In my view, it is one of the best exchanges out there and there's a reason why it is the largest digital asset marketplace in terms of trading volume and the number of users. But, during my effort to buy the WOZX coin, I opened an account with HBTC and started trading on this platform. And, to be honest, I really like it. It's not necessarily about trading commissions or the selection of coins (though it has a huge range of assets) – it was more about the user interface of the site and particularly the mobile app that convinced me that this is the most fun-to-use crypto trading application. So, let's see what are the reasons that genuinely made me like this crypto trading platform.
---
---
HBTC – Supported coins
In general, many crypto traders are looking for underground exotic altcoins so they can day trade using trading algorithms (and most likely lots of HFT trading) and sort of manipulating the markets. This is not something new in financial markets – even in the stock and futures markets, there are many traders that are looking for assets that are less liquid and use different strategies to make profits. So, while almost every crypto platform these days offers you to trade the top 20-30 coins in the market, you might want to make sure that your chosen exchange has nice a selection of altcoins.
In that aspect, HBTC has a huge selection of coins, more than Binance. At the time of writing, it offers 371 coins including some of the most bizarre altcoins you can find in the cryptocurrency market. You can find the full coin list here.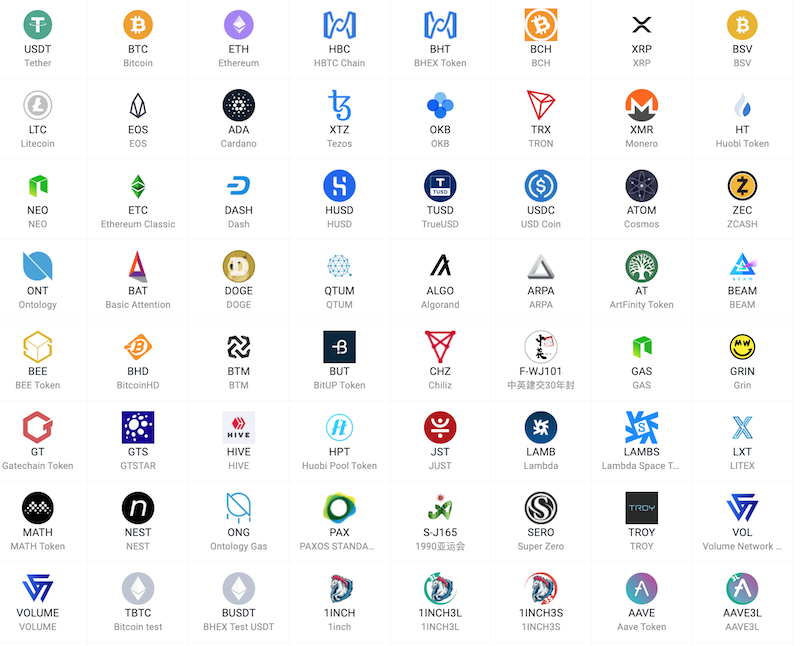 HBTC mobile app
If you are not planning on day trading cryptocurrencies and just want to be an active crypto trader, it's really important to find an exchange with a great mobile app. Nowadays, most users spend their time on mobile rather than desktop so this can the main factor to decide if this is the right crypto exchange for you. Personally, I didn't spend too much time on the HBTC desktop app, and to be honest, the mobile app is just good. I didn't have any problem so far and it's super easy to trade, store the coins, and manage the account from the phone.
As you can see from the images, the HBTC mobile app user experience is something that you look at in a cryptocurrency app.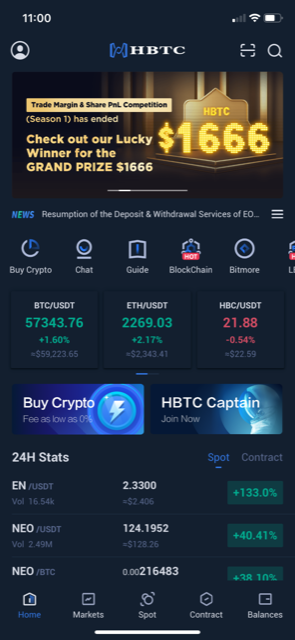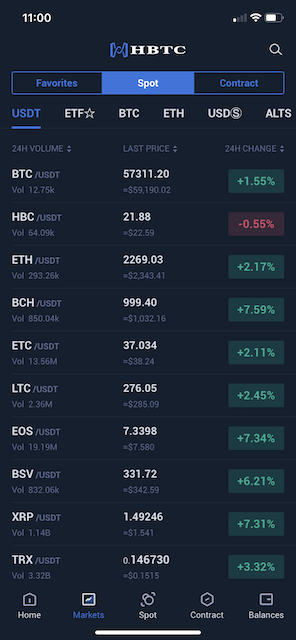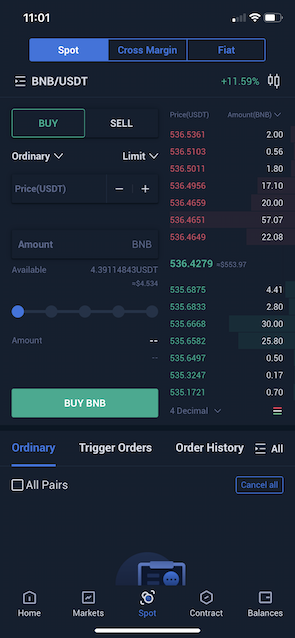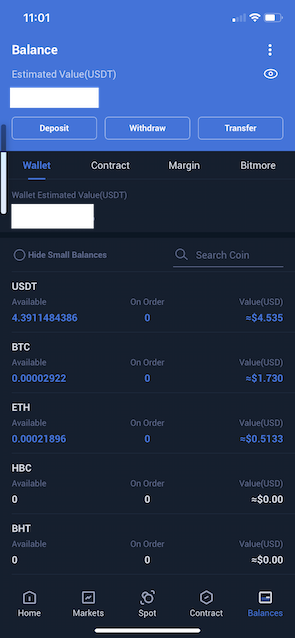 HBTC main features
The thing with crypto exchanges is that they all offer pretty much the same services so it's all about the difference in fees, supported coins, payment methods, and most importantly, the app's layout and user interface. For example, we all know that Coinbase is not the most diverse crypto platform in the market, but it has a smooth and clear UI that makes it sort of the number one cryptocurrency exchange website, along with Binance.
When it comes to HBTC, here are some very interesting features available on this exchange:
Bitmore – Huge list of fixed-term and flexible term crypto products, also known as staking
Exchange-Traded Funds (ETFs) – Offers you to trade lots of crypto-related ETFs
Defi Zone – A unique section of Decentralized Finance (Defi) coins
Margin trading – A leverage rate of 10x for the majority of crypto markets
HBTC Labs – Special blockchain asset issuance platform. A hub for crypto events, projects, and rewards.
Perpetual Contract – A financial derivative that resembles leveraged spot trading, very similar to futures but you only need to pay a small amount of margin.
Payment methods – Accepts credit and debit cards (2% fee), and a nice list of fiat currencies.
Trading fees – Maker and a taker fee of 0.10%
Short Bitcoin – You can 3x short bitcoin when buying BTC3S/USDT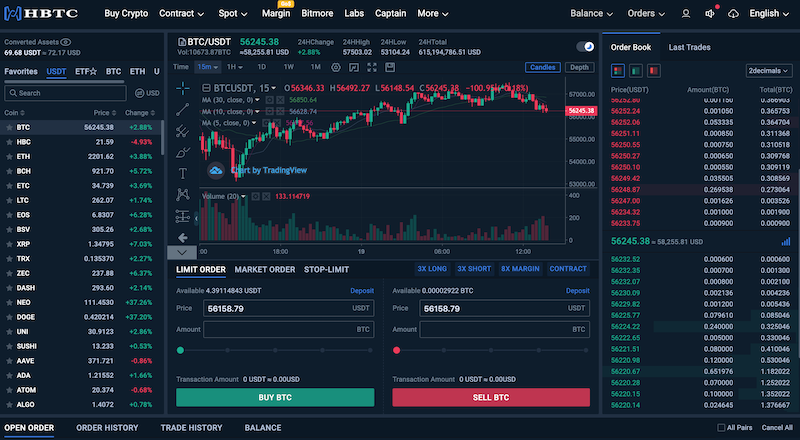 The bottom line
In the crypto market, people often have different experiences with the same trading applications. During this HBTC review, I could find many negative reviews about HBTC that made me wonder if it is actually a good cryptocurrency exchange. But my experience, so far, was pretty good, especially if you are looking for a cryptocurrency trading app that is easy and fun to use.
Binance is still, in my view, one of the favorite trading platforms out there in the market (though it also has many bad reviews online and I was really overwhelmed with the fee they charged when I purchased bitcoin with my credit card). But, what I really like about the HBTC app is that you can actually navigate the site and find new things all the time. Moreover, you can easily transfer coins to another wallet, and view your coins on one screen on the mobile app and make transactions from this screen. Further, you get access to the Defi zone, Blockchain zone, staking, and fixed-term products.
So, as the race for becoming the best cryptocurrency exchange in the world continues, I honestly think HBTC has a good spot in the top crypto trading apps.
Latest posts by AllinAllSpace
(see all)